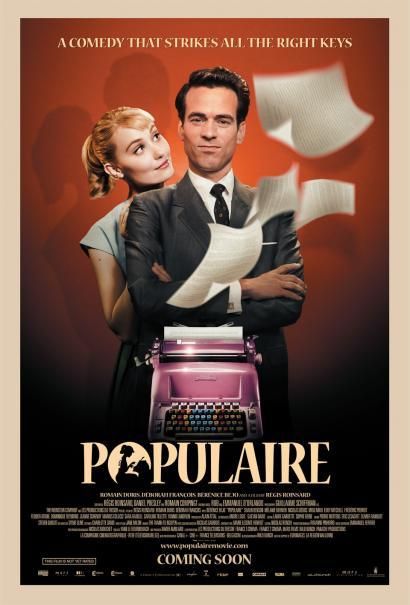 In 1958, becoming a secretary is small-town-girl Rose Pamphyle's greatest dream. She is overjoyed when she is hired by the moody insurance agent Louis Échard. Louis soon learns that Rose is an uncommonly fast typist and decides to train her for the national speedtyping competition, making a bet with his friend Bob that Rose can win. As Louis and Rose spend much time together, sparks begin to fly, but Louis only wants Rose to concentrate on winning the competition.
This little-known French movie could easily have flown under my radar, had I not read a glowing review on one of the blogs I follow. So it ended up on my to-be-watched list and a few weeks ago, I picked it up at my library. And I'm so glad I did, because
Populaire
is 110 minutes full of quirky charm! Who would have thought a speedtyping competition would be an interesting background for a romantic comedy? Well, it really is and it's even exciting! I'll readily admit that I was on the edge of my seat during the competition scenes, cheering Rose on!
But the real heart of this movie are Rose and Louis. Rose (played by Déborah Francois) is such a fun character, she's sweet and a little bit naïve, but also strong and a quick learner. And not afraid to stand up for what she believes is right, which leads to a rather marvelous scene when Louis' family is visiting for Christmas. Louis could easily have been another brooding grumpy hero, but Romain Duris makes him come alive, most especially in the small moments when you see his vulnerable side. Duris and Francois have great chemistry and I dare everyone not to get a silly wide grin on your face from the ending scene, which is just precious!
The '50s make for a fun retro setting for this movie. I'm rather partial to '50s music and there were some really nice songs in this movie! And the dresses! Rose had a whole bunch of lovely sweet dresses and blouses. I've put a few examples at the bottom of this post for you to drool over ;-)
If you're looking for a romantic movie, but want something a little bit different, look no further than
Populaire
!
Content:
There is one scene of intense kissing leading to a man and woman sleeping together with partial nudity.
This is my second review for the Period Drama challenge at Old-Fashioned Charm!