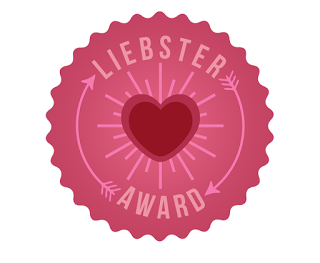 I was nominated for this award by Carissa at
Musings of an Introvert
. Thank you so much, Carissa!
The rules of this award are as follows:
a) Answer the eleven questions of the tagger
b) Share eleven facts about yourself
c) Nominate up to eleven other bloggers
d) Ask those nominees eleven new questions
There we go! First up are Carissa's questions:

1. Where do you go to decompress from the world?
When my pony was alive, this was definitely the riding school where she lived. I could almost literally feel the stress falling from my shoulders when I spent time there with her and among the other horses. I believe animals are great stress-relievers! Nowadays it's just at home, with a good book or a nice series.


2. If given $10,000, what would you do with it?
I would put it into a scientific project, so I could employ myself! Funding is really difficult to get in science, so that way I could research what I find really interesting. Although, $10,000 would probably only tide me over for a few months.

3. What is one major renovation you would love to make on your house?
Updating the laundry facilities would be great. We share two washing machines with over 50 people (though maybe half of them are young students who do their laundry at their parents, but still).

4. What is one movie that you love and didn't expect to love?
Divergent. I put of watching it, because I thought it would be a 'Hunger Games ripoff', but I found it to be a really good story and movie in it's own right.

5. What is the oldest knick-knack you own and what is its sentimental value?
I have some rather old books (close to 100 years old), but I bought them at the thrift store, so outside from me liking them, they don't have any special memories attached to them.

6. Do you own any books you keep out of obligation, but actually hate?
Well, hate is a strong word, but I indeed have some books which were given to me as a present and are standing unread on my shelves. I still do have the plan to read them though!

7. How many countries have you visited outside of the one you live in now?
Belgium, UK, Ireland, Germany, France, Switzerland, Austria, Czech Republic, Italy and Canada. Living in Europe does have it's perks!

8. Have you ever read only part of a book, but claimed you've read the whole thing?
No. Though I have sometimes pretended to have seen a certain movie that I haven't (The Matrix, Star Wars), just to be able to stay 'in the conversation'.

9. Dry climate or humidity?
Dry climate anytime! When it gets hot in The Netherlands it gets humid and I hate it!

10. Sherlock Holmes or John Watson and why?
John Watson, because he seems like the more 'human' of the two and he's easier to identify with.

11. Why did you decide to start blogging?
Before I was blogging here on Blogger, I posted only on LiveJournal (and I still crosspost everything there). I started on LiveJournal because I wanted a place to share my fan-graphics. Slowly this grew to posting more and more reviews and related posts. Then I felt like LiveJournal was getting so quiet and I had gotten to know some really great Blogger blogs that I wanted to connect with more, so I decided to open a blog myself.

My eleven facts:
1. I come from an agricultural family. Both my grandfathers had a farm, my father worked in arable farming. I have four uncles who have (or had) a dairy farm.
2. I have one sister who is 5 years my junior. She is currently finishing her Master's degree in Organic Agriculture!
3. A few years ago I made a bet that I would grow my hair until the end of my PhD. I'm now in my last year and my hair is now as long as the middle of my lower back!
4. I can do a normal braid, French braid or fishtail braid in my hair, but I don't often take the time to do my hair that way in the mornings.
5. I'm so not a morning person.....
6. I'm a part-time vegetarian or, what we say in The Netherlands: flexitarian. I eat meat or fish around 3 times a week and for the rest eat vegetarian. Since doing this, I'm more and more in awe of the many possibilities there are of cooking a good meal without meat.
7. When I do eat meat, I always try to choose organic.
8. I don't have a driver's license. I never really 'wanted' to drive a car and so I kept (keep) postponing it. First as a student I had no money, then working I had no time. It's not really a problem in my life. I life at biking distance from my work and we have good public transport in The Netherlands. I have promised myself though that after I finish my PhD I really will start taking lessons.
9. I try to watch the 8 'o clock news every day
10. I'm not a big fan of summer as I can't really deal with high temperatures well. But I do love summer evenings, sitting outside with a pot of tea and a book and enjoying the quiet....
11. I love playing boardgames and wish I had the opportunity to do it more often. Some of my favourites are Carcassone and Set.

I'm not going to nominate anyone here, as I believe most people in my blogging 'circle' have already been nominated lately. But, as I did nominate some people on LiveJournal, I already made some questions, so I post them here. If anyone wants to answer those, be my guest!

My questions for you are:
1. What is your parent's profession? Did you ever think you would do the same as your mother or father?
2. Are you scared of any animals?
3. You have an unexpected day off. What are you going to do?
4. Do you regularly go to museums? What kind do you like best: art, history, science etc?
5. What do you like best about living where you live?
6. And what do you miss where you live?
7. What is the best movie you've seen so far in 2015? (Doesn't have to be from 2015)
8. Do you think the internet and connected technologies have actually made our live better or worse? (Something I've been wondering about myself lately)
9. What kind of phone games do you play?
10. What is your favourite hymn?
11. Icecream or chocolate?