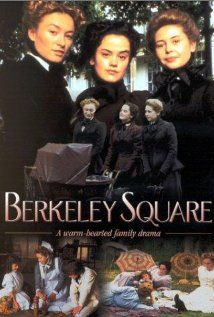 At the beginning of the 20th century, three young women from different backgrounds start jobs as nannies in the rich households on London's Berkeley Square. Mattie is an experienced nanny; calm and strict, but also loving towards the three children of 'her' St John family. When Ned, a new footman arrives in the household, Mattie doesn't care at all for his layabout and joking personality. But there might be more to Ned than meets the eye. Hannah arrives at Berkeley Square with a big secret, she has a child of her own. She's obligated to lodge her son Charlie elsewhere, while taking care of the Bertie, the scared and neglected son of the Hutchinsons. Then there's Lydia, a farmer's daughter, for whom everything at Berkeley Square is new and grand. Under the direction of the elderly nanny Collins, Lydia will learn and grow a great deal. The three nannies meet at their daily walks in the park and fast become good friends.
Berkeley Square
is a 10-part BBC series from 1998. The series had been on my 'Period-drama-still-to-watch' list for a while, but it wasn't until this summer that I finally found the time for it. I enjoyed watching it tremendously! This series is an absolute gem for fans of
Downton Abbey
,
Upstairs Downstairs
or the Edwardian period in general. Like the dramas I mentioned,
Berkeley Square
deals with servants and masters and the life in big houses, but because it focuses on the nannies it gives a unique outlook on these themes and an insight into the upbringing and education of children in the Edwardian period.
Berkeley Square
does not boast a cast of well-known British actors. Mattie, Hannah and Lydia, the three main characters are played by young actresses I had never heard of before. Despite this, there is absolutely no fault to find with the acting in
Berkeley Square
. A special nod goes to the child actors playing Bertie Hutchinson and Tom and Harriet St John. My personal favourite character is Lydia (Tabitha Wady). It's wonderful to see how she, over the course of 10 episodes, develops from an awestruck and naive girl from the countryside into a confident and friendly young woman. Also worth mentioning is the sweet developing relationship between Ned and Mattie, which includes a memorable declaration of love on a rooftop!
Lydia can be named lucky to have a job at the Lamson-Scribener family. Because one other interesting thing about
Berkeley Square
is the fact you will observe three very different households. Where Lady Constance Lamson-Scribener is a warmhearted and modern American woman who listens to her servants and enjoys playing with her son, the situation in the St John family is very different. Victoria St John and her husband have grown estranged and Victoria enjoys a warm friendship with the handsome but rakish Captain Mason. The servants in the St John household are treated more coldly and ranks are strictly observed.
Berkeley Square
has an array of short and longer storylines, involving romance, friendship and a touch of mystery. Overall the storylines are interesting and believable and will give you an insight into many aspects of Edwardian life. Towards the end of the series' run, some of the stories become rather soapy however and you might be caught rolling your eyes at the screen. Another thing I need to warn you about is the fact many storylines have open ends. Apparently, there were plans for a second season of
Berkeley Square
, but this was never made!
That, I think, is a pity, because there was more then enough potential for another ten episodes with Mattie, Hannah and Lydia. As it is, I can definitely recommend
Berkeley Square
to every period drama fan looking for an engaging mini-series.
Berkeley Square can be viewed in its entirety on YouTube!
What to know: One character has a child out of wedlock. A married character pursues an affair. A few kisses and a before and after of their secret meeting in a hotel room are shown. A character is scared by a midnight visit to her bedroom, but nothing happens. A baby dies of maltreatment. A storyline involves 'baby-farming' where children are drugged to keep them quiet. There are a number of fistfights and some mild innuendo.