Welcome everyone to the
Far from the Madding Crowd
watch-along! Hope you were able to find a copy of this period drama and you enjoyed watching the first part. I sure did!
First a practical comment: because there are not really episodes in this adaptation, I sort of randomly cut the movie in three parts to watch and discuss. For part 1, I watched until 1:10 (until the scene where Batheseba leaves on horseback after her conversation with Farmer Boldwood)
On to the adaptation and we travel to Wessex in the mid-19th century where we meet Gabriel Oak (Nathaniel Parker), a shepherd who has just been able to buy his own small sheep-farm. He comes across the beautiful Bathseba (Paloma Baeza) who works on her aunt's farm and is immediately smitten. Though Bathseba flirts with him a little, she is absolutely not planning to be wooed by Gabriel and proudly refuses his proposal of marriage (And he even brought her a lamb to rear, how could you refuse that!)
Bathseba hates to be thought men's property
Just a little aside about the setting which I think is amazing and unique! Which other classic author sets their novels in a farming community? I do appreciate Hardy for bringing the lives of these people to attention. If you also like this setting, I'd recommend watching
Victorian Farm
in which three historians recreated live on a farm in the Victorian era.
Bathseba has a stroke of luck when her uncle dies and she inherits his farm (again quite unique in a classic novel, a woman inheriting), while a disaster befalls Gabriel and he looses his farm. Soon they meet again however, when Gabriel unwittingly saves Bathseba's farm from a fire and is hired as a shepherd.
Insert Taylor Swift lyrics ('I knew you were trouble' or something like that)
One of Bathseba's new servants, Fanny, has a relationship with a soldier. Jane Austen already taught us what to think of these redcoats and Fanny's suitor sergeant Troy is indeed all charm, but no substance (incedentally, Frank Troy is played by Jonathan Firth, who also had a role in
Middlemarch
from last year's watch-along!). Troy promises Fanny they will marry, but when the wedding day arrives they are both at different churches due to some miscommunication.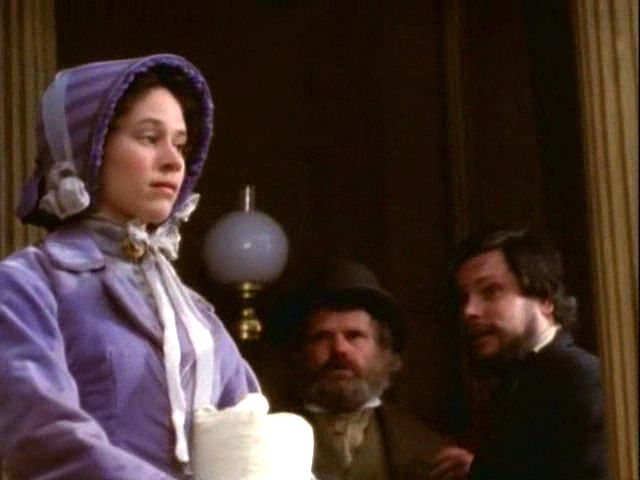 Bathseba meanwhile, shows to have quite a talent for running a farm. She's fair and kind to her employees and is not planning to be taken advantage of because she's a woman. I think this was one of the first things I really liked Bathseba for and I think she's a classic heroine who can speak to modern women because of this.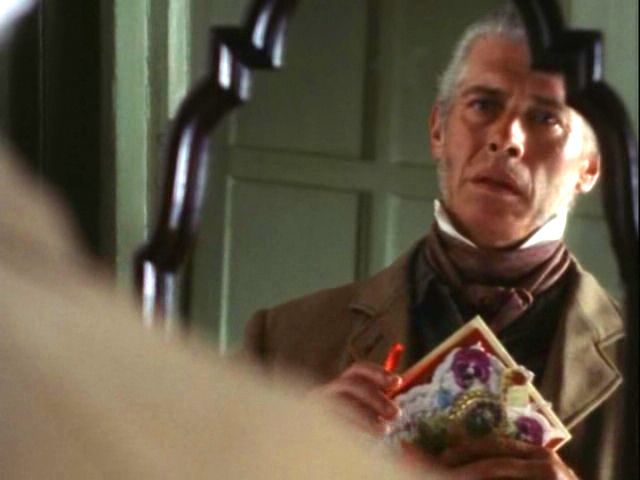 Bathseba is also just a young woman though and on a boring Sunday afternoon she and her servant decide to sent a Valentine's card to Mr Boldwood (Nigel Terry), the gentleman farmer next door as a joke. Mr Boldwood, upon receiving the card, decides he is in love with Bathseba and asks her to marry him. Bathseba is shocked and refuses, but upon Boldwood's insistence, promises to think about it a little longer.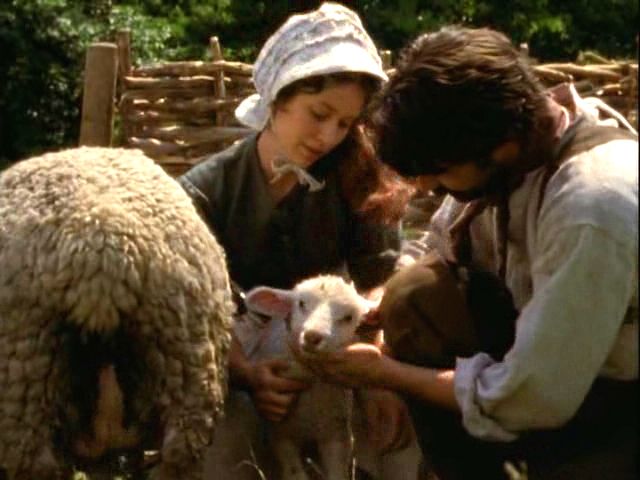 Nothing like cute baby animals for a bit of bonding

Quote of the week:
Bathseba: 'I'm too independent, I need someone to tame me. You'd never be able to do that'
Gabriel: 'Who said I couldn't?'
Discussion question(s):
- What's your first impression of the story and the main characters? (Please add if you've seen and/or read the story before)
- Do you think the names of Gabriel Oak and Bathseba Everdene were given to the characters with a special meaning/reason?