Bookish and Not-So-Bookish Thoughts is a weekly blogging event hosted by Bookishly Boisterous. It allows book bloggers (and non-book bloggers) to write about pretty much anything, bookish or otherwise (i.e. sharing exciting plans for the weekend, rants on things they've encountered during the week etc.)
1. Hello everyone! How are you all doing now that summer has ended and 'normal' life has resumed? I must say, I don't mind that it's September, August was so hot and humid in The Netherlands, blegh. I'm also quite pleased 'things' are starting up again, like my children's club in church and my sword fighting lessons. Though I had a severe case of muscle pain after my first sword fighting class in two months last week ;-)
2. Though most of my summer was spend working, working, working, I did take a short trip with my mum to Belgium. We had a nice time enjoying all the good things our 'neighbour' has to offer. Here's me at the lovely castle gardens of Annevoie.
3. So, you don't have to go far to enjoy a holiday feeling. Even in my own country, so much can still be discovered. I spend a lovely sunny Saturday in the historical city of Delft which -to my shame- I've never been too! If you're ever in The Netherlands, go beyond Amsterdam and also visit this gem of a city!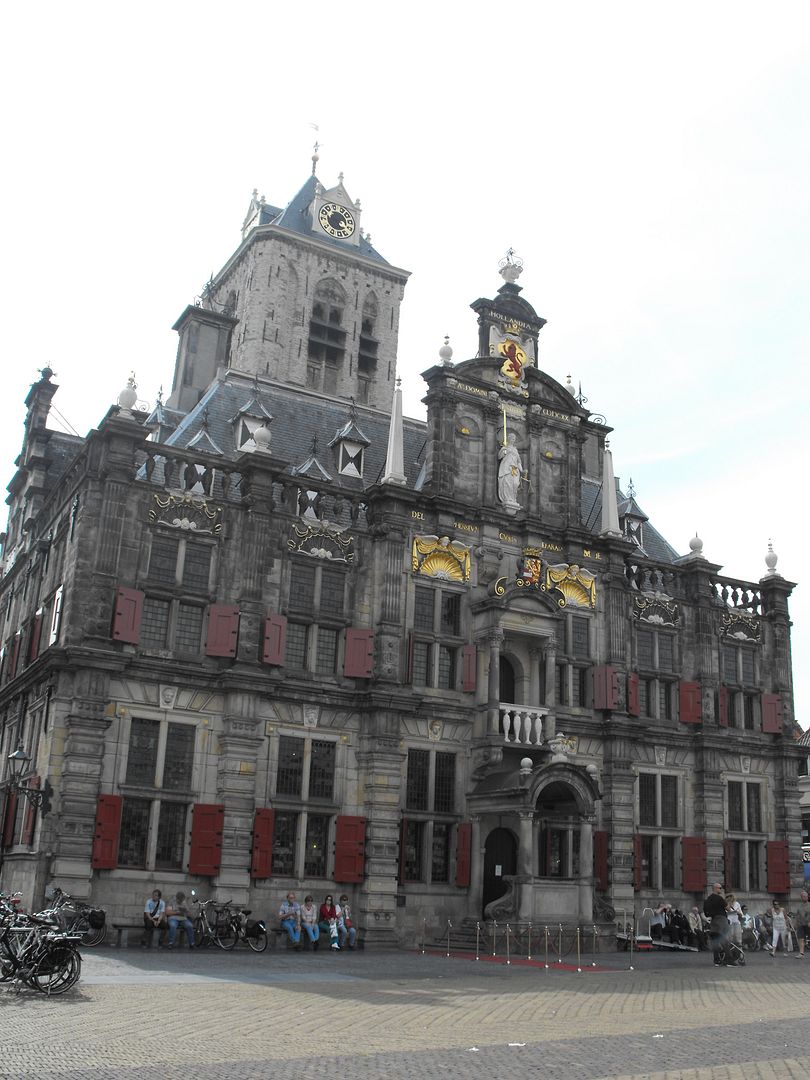 4. In another of my previous 'Bookish' posts, I mentioned a Jane Austen themed trip to England I had booked. Unfortunately, at the beginning of August I heard this would not go through because of too little participants (whát!!). Well, I had already taken the week of from work, so I decided to go to England any way, but organize my own trip. I decided to go to Yorkshire as I heard this is a lovely area with lots of things to see both history and nature wise. One thing I'm definitely going to visit is Haworth Parsonage, the home of the Brönte sisters. I'm sure to take lots of pictures and tell you all about it of course!
5. This spring, in one of these posts I pointed you at some new literary webseries starting. I then fobbed you off with
East and West
, which series unfortunately stopped abruptly after only a few episodes... I therefore feel a little hestitant now in mentioning another new webseries, but it's so nice, I will anyway!
Northbound
is the webseries adaptation of
Northanger Abbey
and though only 15 episodes in, I already looove it's heroine Catherine and hero Henry. If you're a fan of the Jane Austen novel: go watch this!
6. Two weeks ago, two of my housemates got married! Because the bride only has a really small room, she asked if her wedding dress could 'stay' at my place. I said 'Sure' ofcourse so had a lovely dress hanging in my spare room for a week! Which was quite funny as I was reading book
The Wedding Dress
by Racheal Hauck at the same time!
7. Reading wise, I'm still enjoying listening to classics via audiobook. In this way I 'read' in the last two months
A pair of blue eyes
by Thomas Hardy, two novella's by Elizabeth Gaskell (
The Moorland Cottage
and
Cousin Phyllis
) and have just started
Rilla of Ingleside
by L.M.M. Montgomery. Thank you,
LibriVox
!
8. In July I put up a poll asking you what 'watch-along' you wanted to do this autumn. You picked
Far from The Madding Crowd
(1998) so that's what I'm going to watch and post about starting in October. I hope you're all going to watch along with me. Spread the word with the banners below if you like.