Here we are, the first episode 'recap' of the Middlemarch watch-along. I hope you all enjoyed starting this period drama. I sure did! Even though it's a rewatch for me, the previous time I watched it was over 5 years ago, so I've forgotten a lot of the details.
In this first episode we meet the wide cast of characters whose lives we will follow. What arrested my attention was how we are thrown right in the middle of the lives of these people. No introductions, no voice-over, we get to know them as the story goes along. And quite a lot already happens in this first episode!
First, we meet dr Tertius Lydgate (Douglas Hodge), a young and ambitious physician who arrives new in Middlemarch and who hopes to do revolutionary work there. The building of a new hospital is in an advanced stage of planning and dr Lydgate discovers he will be a member of the board and will have to make some difficult decisions.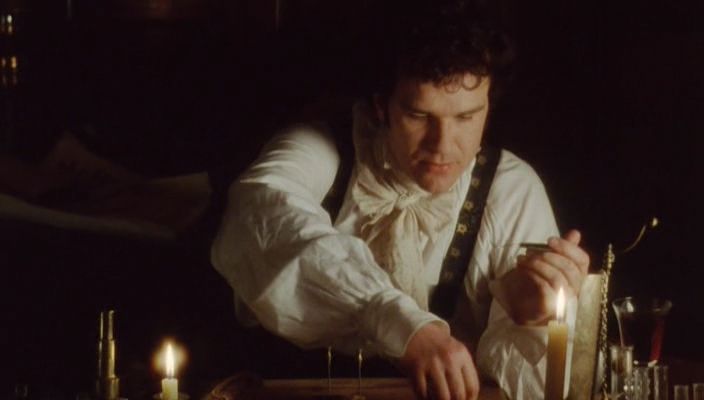 What was dr Lydgate actually doing in these scenes?
Celia and Dorothea Brooke (Caroline Harker, Juliet Aubrey) are sisters who live with their uncle. Celia seems happy with her life, but Dorothea feels constrained. She wants to do good, to be of use to people, but those around her dismiss her ideas and suggestions as the fancies of a silly young woman.
Dodo and Kitty, as they call each other
I thought it was interesting how similar the wishes and dreams of Dorothea and dr Lydgate are. They even use the same words to describe them: to do more in this life.
Dorothea's uncle invites and eminent scientist to dinner: mr Casaubon (Patrick Malahide). Dorothea immediately feels a kinship to him, which is further intensified when he does not seem to dismiss her wishes for a meaningful life. At the end of the episode Casaubon asks Dorothea to marry him, which she gladly accepts.
A very swift courtship



Last but not least there are the Vincy siblings: handsome-and-she-knows-it Rosamund (Trevyn McDowell) and her lazy but amiable (I just loved how he apologized to his horse for dreaming of owning a better horse!) brother Fred (Jonathan Firth). Fred is more or less waiting for his life to start when he will inherit from his uncle Bulstrode. He's in love with his uncle's nurse, the level-headed Mary Garth. Rosamund has high hopes of making a good marriage and getting away from the provincial Middlemarch.
Hello, I'm Colin Firth's brother. Do you see how well I can brood?
Quote of the week:
Dorothea: 'Many things are true which only the commonest minds observe'
Celia: 'Then I think the commonest minds are very useful'
Dorothea and Celia doing the Jane and Lizzy thing

Discussion question(s):
- For the first time watchers: Which character do you like best after this first episode?
- Celia and Dorothea with their vastly different characters but loving relationship reminded me of Eleanor and Marianne from
Sense and Sensibility
. Do you agree? Who do you think resembles which Dashwood sister?