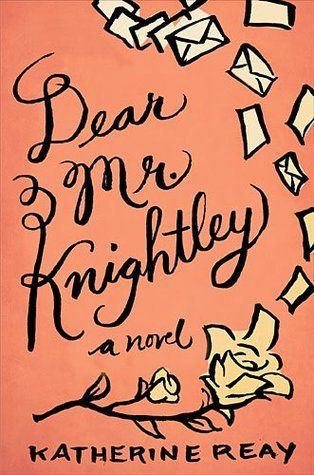 Samantha Moore grew up in foster care and learned to survive by hiding in books. In the company of her beloved fictional characters she feels save. After college and a failed attempt at a big city job, Samantha gets the opportunity of a lifetime when the anonymous benefactor who calls himself Mr Knightley offers her a scholarship to Medill School of Journalism. The only condition is that Samantha writes regular letters to Mr Knightley. Samantha starts her education, but finds out writing isn't as easy as she thought and neither is growing up. But when she starts making real friends in her classmate Ashley, fellow foster kid Kyle and famous novelist Alex Powell her life really starts to change.
I had really high expectations for this novel. It was all over the pages of my blogging friends in the last year and they only had good things to say about it. And let's be honest: a novel based on a literary classic (
Daddy Long-legs
), with a main character who loves classic novels: that is like catnip to any lover of these classics like me, right?
But maybe it's dangerous to have such high expectations, because in the end I ended up liking the novel just fine, but not loving it and feeling somewhat dissapointed about this.
First, lets talk about the good! I did indeed love all the classic literature references. If you know and love Austen, Brönte, Gaskell etc., this book immediately feels familiar. I also loved Samantha's friendships with the teenager Kyle and her classmate Ashley, it was nice to see those relationships developing and seeing Samantha open herself up more and more. And who can not love Alex, he was just amazing: sweet, intelligent, funny, basically a dream guy. I really liked the scenes of him and Samantha hanging out together, getting to know each other. I liked how Katherine Reay let the relationship develop gradually, so often, even in Christian fiction, relationships move forward at breakneck speed, this was a real good chance in that respect.
So, why didn't I love this novel then? It was not the story itself, but the way the story was told: through letters. I had such a hard time suspending my disbelief that Samantha who was so closed and guarded, would write such detailed and intimate letters to someone she doesn't even know. In the book an explanation is given: Mr Knightley promises he would never write back, so Samantha feels save in that. But even so, he would still read them and I can't reconcile that with Samantha's character. I mean, she wrote about her first kiss to basically a stranger! And her benefactor nonetheless. It is, I think, a more general problem with letter novels, that the letters have to be made more detailed then they would be in real life for the story to be told. But still, I didn't have this same problem with
Daddy Long-legs
, maybe because the heroine there was younger and mostly wrote about less personal things? Another thing that bothered me was the ending, it felt really rushed after Alex's secret came out. I wished Katherine Reay had given Samantha more time to process all that.
I'm still very curious about Katherine Reay's next books though, because I think her story ideas are great. I actually already bought Lizzy&Jane as an e-book!
If you've read this book (and I know quite a number of you have), what were your thoughts about the format and how it impacted the story?