Bookish and Not-So-Bookish Thoughts is a weekly blogging event hosted by Bookishly Boisterous. It allows book bloggers (and non-book bloggers) to write about pretty much anything, bookish or otherwise (i.e. sharing exciting plans for the weekend, rants on things they've encountered during the week etc.)
1. Hello dear people! First of all, a wonderful Christmas to you and your loved ones and a happy New Year!
2. I hope you all had a good run-up to Christmas! Did you do any special 'Christmassy' things, such as go to a concert of visit a Christmas market? I didn't get to do those things this year, but I did vist the Midwinter Fair with my swordfighting friends. This was not very 'Christmassy', as it's a Medieval/fantasy gathering, but it was very nice! I was a bit afraid I was going to get cold as I only have a linnen summer dress for my Medieval costume, but my woollen mantle and copious cups of hot chocolate kept me quite warm!
As you've seen pictures of me and the other group members in costume already, I will post a picture of another Midwinter Fair visitor here, who was very much in the Christmas spirit!
'

3. I really enjoyed decorating my place this year. As you might remember, I moved last January, so this was my first Christmas season in a bigger place and suddenly I had room for all my Christmas decorations! I also got a cute little Christmas tree (just small enough to take home on my bike!)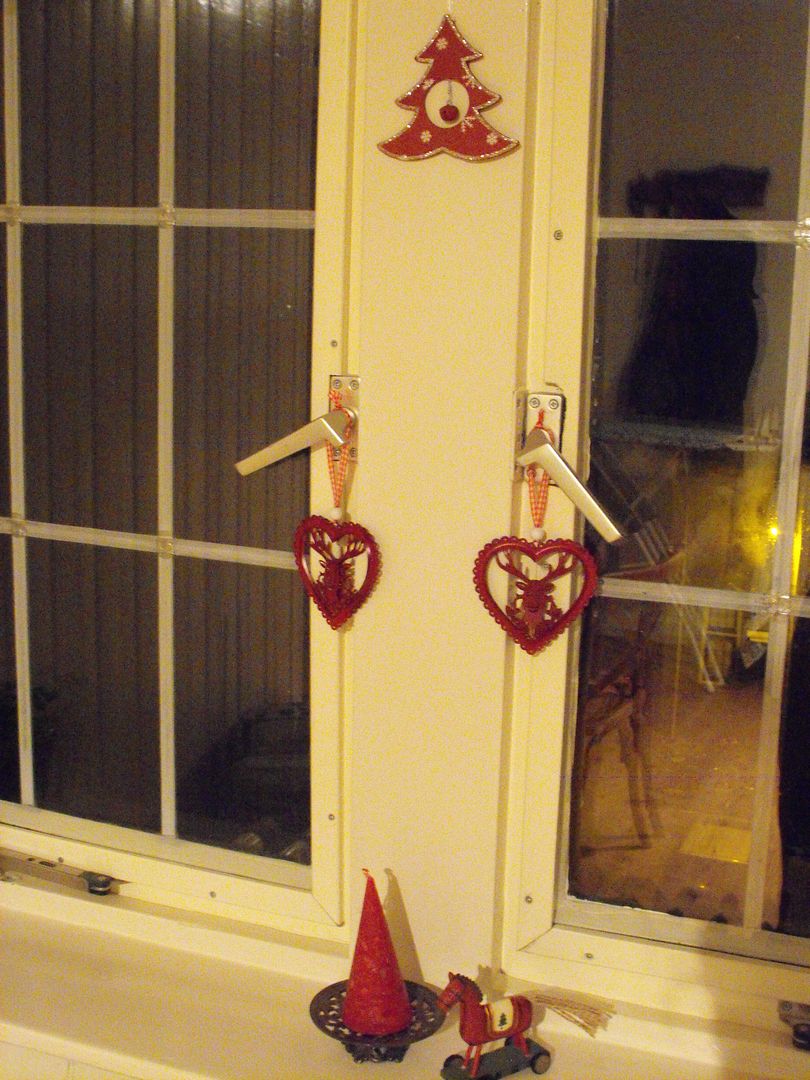 4. This year my mum and my sister are coming to spend Christmas with me. I'm really looking forward to it, but am also just a bit nervous about playing hostess (Did I buy enough groceries? Will they not get bored? Do I have enough clean and decent looking towels ;-) )

5. The last weeks at work were made considerably easier by listening to Christmas music! The classic carols are my favourites, but I like to listen to many different performances of those. Here are two new favourites I discovered this year:
6. I also had a lot of fun watching made-for-tv Christmas movies this year (
Rissi
, thanks for your enthusiasm for Hallmark Christmas movies and your helpful reviews!) It's just such a fun way to really kick back and relax and I need that now and then. My favourites were
Crown for Christmas
and
Dashing through the snow
.

7. Talking about TV and Christmas, I'm looking forward to the Christmas specials. The trailer for the Downton Abbey special looks daaarling, even though it's a bit bittersweet with it being the ending of an era. And Doctor Who looks like it's going to be lot's of fun and we need a bit of that in the 'Whoniverse'. What are you going to watch around Christmas?

That's it from my side! Hope you all enjoy your holidays and have lots of good times with loved ones, good food and good entertainment.