The independent Bathseba Everdeen (Carey Mulligan) inherits a farm from her uncle and is determined to run it herself, no easy task for a woman in the 1870s. Three men vie for her hand and her heart, her rich neighbour Farmer Boldwood (Martin Sheen), the handsome and charming Captain Troy (Tom Sturridge) and kind and dependable Gabriel Oak (Matthias Schoenaerts).
Strange as it may seem, Thomas Hardy, known (and feared?) for his tragic stories also penned one of the most touching love stories in British 19th century literature.
Far from the Madding Crowd
completely captured me a few years ago when I read the novel and watched the 1998 BBC adaptation, so I was very pleased and interested when I heard a new movie version was being made. This week I went to the cinema and again, Bathesba's story totally captivated me.
The first thing that struck me when watching this movie was how beautiful it is. A good period drama should have beautiful scenery and this one has plenty, from wide pastures to forests to farmyards full of activity. I believe Thomas Hardy would have been pleased to see how his beloved Wessex has been portrayed in this movie and how the farm life which plays such an important part in this story is shown in quite some detail. Another thing which is really beautiful in this movie is Bathseba's dresses. Really, they are mouth-wateringly stunning (see example below) and will no doubt inspire many Tumlr graphics and enthusiastic posts on costume blogs ;-)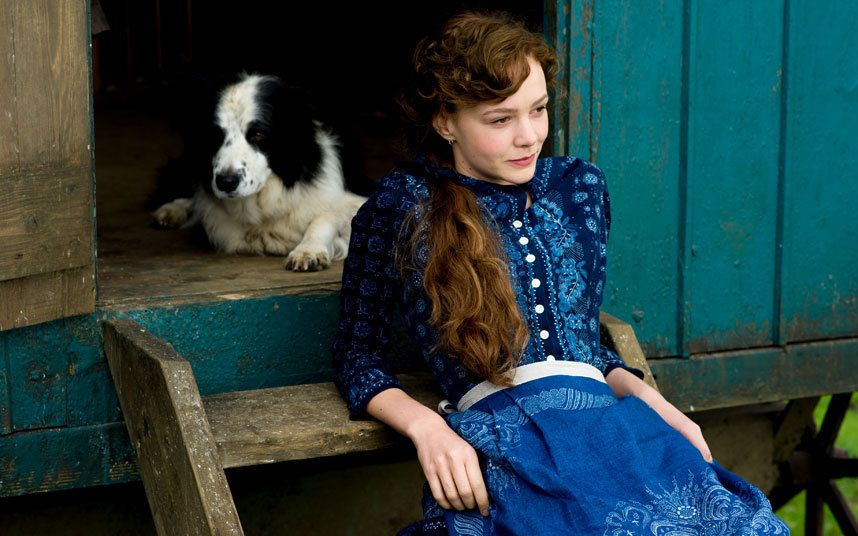 Carey Mulligan is a perfect Hardy heroine. In
Far from the Madding Crowd
, she portrays Bathseba convincingly both in her intelligence and strength as in her more vulnerable and confused moments. Gabriel Oak is played by the Belgian actor Matthias Schoenaerts. I had never heard of him, but he seems to be really up-and-coming, he will play the main character in another period drama A Little Chaos alongside Kate Winslett. As Gabriel, I really liked him. He didn't say much, but conveyed so much with his eyes and body language. The chemistry between him and Carey Mulligan was really great! He does have a slight accent, which might bother some people, for me this was nothing compared to his great acting. I wasn't convinced by Tom Sturridge as Sergeant Troy. We have to believe Bathseba falls for Troy's charms head over heels, but I couldn't get past his silly looking mustache!
Ofcourse, adapting any large and complex classic novel in not quite 2 hours is tricky business. Also in this adaptation of
Far from the Madding Crowd
, some events, in my opinion important events, were missing. Development of relationships moved at lightning speed and some emotional scenes had less impact than they should have because they happened so quickly. The relationship between Bathseba and Gabriel luckily was developed convincingly as they had the whole length of the movie to portray this.
For this reason, I still think the 1998 miniseries is a better adaptation of the novel. Still, I would recommend this new movie highly to all period drama fans. It is well-acted and clearly made with love and insight into the period.
Content: Far from the Madding Crowd is rated PG-13 for ... A shocking scene is shown of sheep falling over a cliff and smashing on the rocks below. The wedding night of two characters is shown briefly, but no nudity. In a steamy kiss, the man grabs the woman through her dress. A character is shot, another character is shown in a coffin with her dead child. In one scene, characters get quite drunk and start singing a suggestive song.
Carey Mulligan can sing, and quite well too!