Bookish and Not-So-Bookish Thoughts is a weekly blogging event hosted by Bookishly Boisterous. It allows
book bloggers (and non-book bloggers) to write about pretty much anything, bookish or otherwise (i.e. sharing
exciting plans for the weekend, rants on things they've encountered during the week etc.)
1. I have a new phone, yay! After struggling with a slow, always full and often crashing Alcatel phone for ages, I now have a lovely, fast Samsung Galaxy Core on which I can download all the apps I want and still have lots of GBs of memory left! There's just one little downside to this: about half a year ago I was browsing through Etsy and came across some great, classic literature inspired phone cases. I then decided: when I get a new phone, I'm buying one of these cases. Unfortunately, these cases are only made for standard model phones like iPhones and Galaxy S. So now my great new phone is dressed in a boring black case, all I could find for this model (#firstworldproblems)
2. Today I was helping a friend with the refurbishing of her new place. I painted the inside of two closets and ofcourse had to think of this moment in
Pride and Prejudice
, LOL!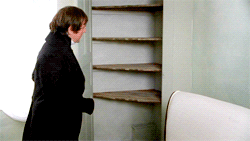 "Shelves in a closet, a happy thought indeed!"
(Source:
memebags
)
3. Lately, I've become a bit addicted to the YouTube channels of BuzzFeed. There are just so many funny and creative vids there, I spend too much time watching these...
Here's a great example:
4. I cannot believe this weekend it's already time for the finale of both the
Doctor Who
and
Downton Abbey
seasons! These series have really flown by this year, especially
Downton Abbey
. Is that a sign that it's making less of an impression on me? I don't know really, but what I do know is that I had the feeling this might be the last season of
Downton
with all the plot threads ending. But then this week I heard that a
sixth season has been ordered
.
5. On the other end of the spectrum... I have been watching the ABC comedy
Selfie
for the last few weeks and just started to really get into it (it was the first comedy series I followed for ages), when this week I heard it was being cancelled....
6. I've been reading a dissapointingly low number of books the last month. I've started
Bleak House
by Charles Dickens and although I really like it, it's still a classic and in the evening after work when I want to read I find myself spending time on 1. or 3. instead ;-)
7. Here in The Netherlands, we're starting to gear ourselves for the yearly Sinterklaas at the 5th of December. With that comes the time of snacking on '
pepernoten
' (yummy, especially the chocolate-covered ones!) But, the last few years these weeks leading up to Sinterklaas have also been filled with
heated discussions
about Zwarte Piet (Black Peter, the dark skinned assistant of Sinterklaas). Is this tradition racist or not? I find this quite a difficult discussion: on the one hand I want our beloved tradition to stay as it always was, as I have enjoyed it as a kid. But on the other hand I don't want to waltz right over the feelings that the coloured Dutch are having to this figure.
Well, with that I'll leave you for today. I hope you're all doing alright (I'm afraid I'm quite behind on reading your entries :-S) and enjoying your weekend!