At the beginning of this
Middlemarch
watch-along I promised you a giveaway when we finished and here it is! But first a little wrap-up: I had a lot of fun with this watch-along. It was really nice to rewatch this great BBC series together with you. I really got renewed appreciation for the story and the adaption. Thanks everyone who commented with opinions and wise words! I hope you enjoyed the watch-along as well. Maybe it inspired you to go read the book
Middlemarch
or try out some other works or adaptations by George Eliot.
The watch-along inspired me to do another one: in September I plan to host a
Far from the Madding Crowd
watch-along. I hope you'll all join in and watch this wonderful Thomas Hardy adaptation with me!
On to the giveaway: I'm giving away a copy of the wonderful book (and isn't the cover pretty?)
My life in Middlemarch
by Rebecca Mead.
' Rebecca Mead was a young woman in an English coastal town when she first read George Eliot's
Middlemarch
, regarded by many as the greatest English novel. After gaining admission to Oxford, and moving to the United States to become a journalist, through several love affairs, then marriage and family, Mead read and reread
Middlemarch
. The novel, which Virginia Woolf famously described as "one of the few English novels written for grown-up people," offered Mead something that modern life and literature did not. In this wise and revealing work of biography, reporting, and memoir, Rebecca Mead leads us into the life that the book made for her, as well as the many lives the novel has led since it was written. Employing a structure that deftly mirrors that of the novel,
My Life in Middlemarch
takes the themes of Eliot's masterpiece--the complexity of love, the meaning of marriage, the foundations of morality, and the drama of aspiration and failure--and brings them into our world. Offering both a fascinating reading of Eliot's biography and an exploration of the way aspects of Mead's life uncannily echo that of Eliot herself,
My Life in Middlemarch
is for every ardent lover of literature who cares about why we read books, and how they read us.'
Amazon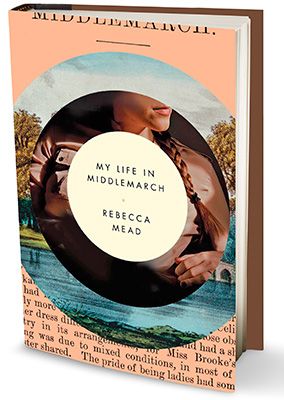 I can definitely recommend this book: it's wise and funny and every book lover will recognize much in it. Besides, you will learn about the live of George Eliot, many other Victorian authors and a lot about Victorian society in general.
The rules for the giveaway are as follows:
- The giveaway is open worldwide
- The winner can choose between a paper or an ebook version of
My life in Middlemarch
- Please leave a current email address to the Rafflecopter widget so I can reach you when you win!
- If the winner does not respond to my email within a week, I will draw a new winner
The giveaway will be open from Saturday, July 5 until Friday, July 11 (GMT+1)
a Rafflecopter giveaway