When putting in the second dvd of my Middlemarch box to watch this episode I discovered that my series dóes have 7 episodes and not 6 as I thought. Well, that solves the problem of the different episode beginnings and ends between my version and the version of some of you commenters. So, just so you know, there will be two more watch-along posts coming!

Now, back to Middlemarch, where Mr. Brooke is trying to get votes for his election as local MP. He doesn't succeed so well however and is even bombarded with eggs. I felt quite sorry for him, after all, he's not a bad guy. Just incompetent.... Brooke seems to realize this himself as well and withdraws from the election and decides to live abroad for a while. He also sells his newspaper. This is bad news for Ladislaw, who works there as an editor and now has to go look for a new job.
I wonder what is taking the pizza-delivery guy so long
Dorothea is taking steps to get her life back on track and starts making some decisions for herself. She appoints Farebrother as curate at Lowick. Why do I think Casoubon would not have approved of this? Dorothea also moves back to Lowick and is visited there by Ladislaw who wants to say goodbye. They have a highly emotional conversation in which their feelings for each other become very clear. Unfortunately, they are interrupted by Sir James and Ladislaw leaves Middlemarch.
You, sir, don't understand a thing about politics


The Lydgates are visited by Tertius' rich cousin and Rosie is quite taken with him and his lifestyle. Despite her being pregnant, she goes out riding with her visitor and looses the baby.... Lydgate is broken and on top of that, he also has to visit a pawnbroker because he has debts.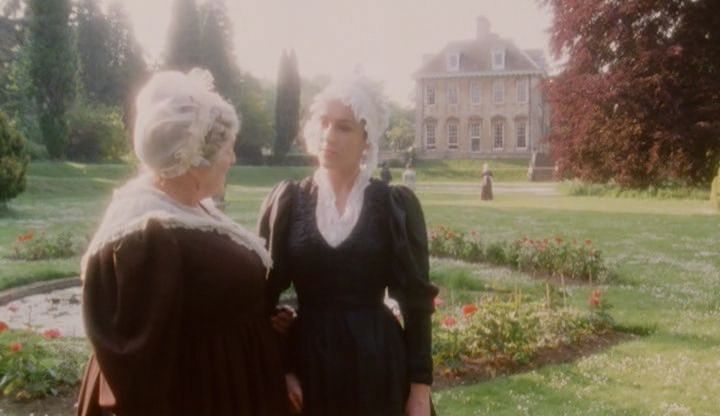 You just say you like my widow's cap because you don't want to be the only one wearing such a hideous thing!

Fred Vincy has returned to Middlemarch after finishing his studies at Oxford. His father expects him to go 'into the church', but Fred doesn't like this prospect. Neither does Mary, she abhors the idea of people going 'into the church' just because it's a profession of standing. Fred asks Farebrother to speak to Mary on his behalf, but because Farebrother is also fond of Mary, this is very painful for the poor man. Mary seems oblivious to the reverend's feelings and confesses her love for Fred.

And, in this episode Mr. Bullstrode also gets a bigger role. He was only a banker in the background so far, but now gets a story of his own when he is visited by a rather unseemly friend from the past who seems to know things that Bullstrode would rather forget...


Gentleman in red

Quotes of the week:
Dorothea: 'I used to despise women for not shaping their own lives more. I was so fond of doing what I liked. Two years ago I had no notion of the way that trouble comes and ties our hands, and makes us silent when we long to speak.'

Mary: 'I could never be happy if I though he was unhappy for the loss of me.'

Discussion question(s):
- A bit of a historical question: how do you think the system evolved of giving men a job 'in the church' even though they had no calling or talent whatsoever?
- Do you think losing their baby will mean the death-stroke for Lydgate and Rosie's relationship?


Why do the friendliest, most honest men in period dramas never 'get the girl'?