There are two types of movies we love. The ones we already expected to love from the moment we first heard of them: adaptations of our favourite books, sequels to other great movies, our favourite genre etc. And then there are the ones you once saw a trailer of and thought: 'Maybe, let's put it on my 'to-watch' list.' And when you finally do watch them, they totally surprise you with their wonderfulness!
Recently, I watched two movies of this last category which I would like to share with you:
On a clear day
and
The way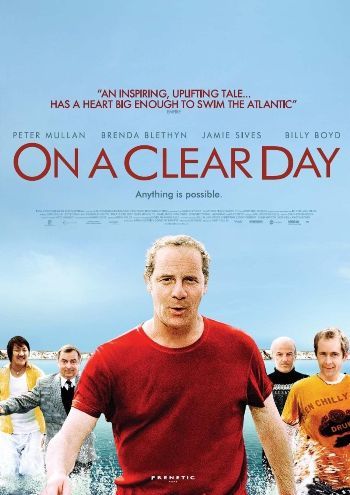 On a clear day
(2005)
tells the story of Frank, a middle-aged shipbuilder who suddenly looses his job. With that, he also looses his self-esteem and sense of direction. A throw-away remark from one of his friends leads Frank to take up a great challenge: swimming the English channel. While his wife Joan and his almost-estranged son Rob are afraid Frank has lost his mind, his group of friends are trying to help Frank as much as they can to achieve his goal.
It's so often the British movies that can surprise you with their warm-hearted stories of ordinary people who discover what they are capable off. The quote from the movie poster above really sums up my feelings of this movie perfectly, I couldn't say it better myself! I just would like to add how 'real' this movie felt. Both the sets as well as the relationships between characters really felt as if I was looking at real people I could meet when I went to Glasgow myself. The acting is also great, especially the understated role of Peter Mullan as Frank. He doesn't say a lot in this movie, but you know exactly what he is feeling or thinking from his subtle facial expressions! The last ten minutes of this movie are an emotional rollercoaster (in a good way) as you will want to laugh, cry and cheer at the same time!
In
The Way
(2010), eye doctor Tom gets the devastating news that his son died in France, just at the beginning of walking the pilgrim's route to Santiago the Compostela. Tom heads to France to claim his son's remains, but once there he decides to walk 'El Camino' himself to honor his son's desire. Though starting out alone and having no desire to socialize, Tom soon walks with three other pilgrim's, all with their own stories and reasons for walking the route.
Like
On a clear day
, this movie is also warm and uplifting. The most important theme of the movie is friendship and how friendship can grow even between the most unlikely group of people. The way in which Tom and his three fellow travelers Sarah, Joost and Jack slowly develop trust and ease with each other is one of the best portrayals of friendship in a movie I've seen.
The Way
deals with heavy themes, but balances serious matters very well with lighter sections. Couple this with gorgeous scenery and very solid acting performances and this movie is definitely one to watch.
What to know:
On a clear day: many mild-to-moderate British profanities, some sexual jokes. A minor character is alluded to making home pornography.
The Way: the characters walk a pilgrim's route, but are no believers themselves. Christianity is treated with respect though. A few profanities, softdrug use and a man is seen showering.