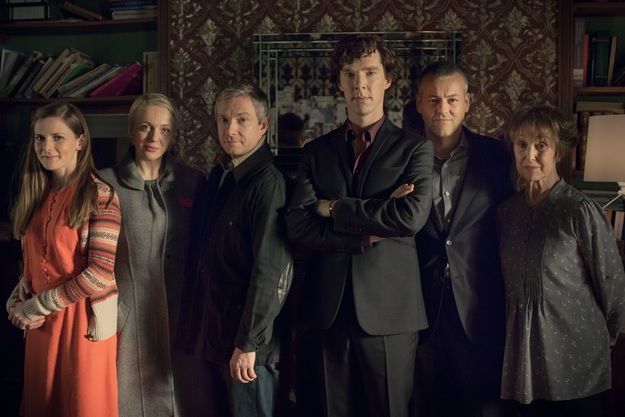 With the recent airing of
Sherlock'
s
third series on the BBC and now it's run on USA television, my Blogger and LJ reading lists are filled with posts about this show. All of them positive, raving reviews and recaps, stating how the show is better than ever and how wonderful the characters are.
I can't write such a post. Yes, I did watch series 3 of
Sherlock
and I did enjoy the previous series (never was on my top favourite list of tv-series though). Yes, I do think Sherlock is made extremely well storywise and with regard to cinematography. And yes, I do think the acting is phenomenal. Still, series 3 has made me realize I don't really like
Sherlock
anymore and I most likely will not spend time on any further series*.
Might contain slight SPOILERS for series 3!
Why, do you ask? Well, because I don't like this series' Sherlock. I know, maybe Sherlock Holmes is not a character you should really 'like', more begrudgingly admire for his mind. And I know I shouldn't want to 'make' Sherlock adhere to societal mores, because then he wouldn't be the unique person he is anymore. I've read quite some blog posts this week where people claim Sherlock has gotten much nicer in series 3 and is showing more of his heart. Maybe I judge too harsh, but I don't see it. Yes, Sherlock claims he loves John in his best-man speech. But to me these are just words as he is also still willfully cruel. Like when he made John believe they were going to die in
The Empty Hearse
just to make John forgive him. Like when he began a relationship with Janine in
His Last Vow
, just to get to a suspect. These are things that, no matter how much Sherlock is a special person, are just nasty and I can't possibly admire a main character of a tv show who does these things.
I don't want to make this an
Elementary
vs.
Sherlock
post, I just want to point out that I think
Elementary
's Sherlock Holmes is a good 'compromise' between being a socially-inept person and being a good man inside.
Elementary
's Sherlock may be blunt and rude and totally misunderstand social clues, but he's never willfully cruel (at least not since the second half of season 1). I like watching
Elementary
's Sherlock and Joan together, because between them I see real friendship. Friendship that challenges and changes both of them. Again, maybe I judge too harshly, but I don't see that as much as I would like in BBC's
Sherlock
.
I'm sure many of you won't agree with me and I welcome your comments and a friendly discussion! I just wanted to get my 'two cents worth' in the Sherlock mania currently going on in the blogosphere!
* I also really don't like who/what Mary turned out to be and that they are bringing a certain character I loathe back for series 4, other reasons I don't think I'll watch this series.