Multiple people on the blogs I follow have been doing this link-up in the last few day:
What's on your bookshelf?
by
Modern Mrs. Darcy
Now I dearly love to read books, but I also like to look at them, so I love these kind of things!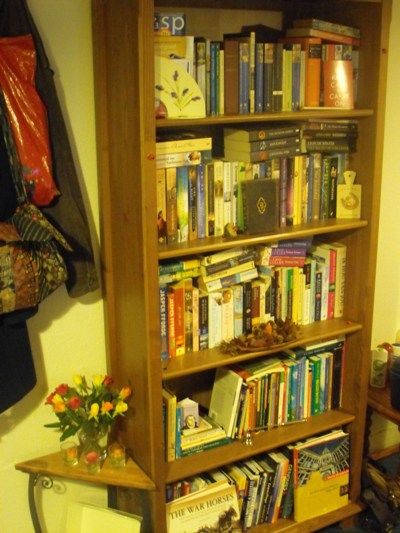 This is my single bookcase. As you can see, it's getting rather full. Might be time for a second one in not too long a time!
The top shelf is reserved for the Classics: Tolkien, Austen, Dickens etc. I love my 7-part
Lord of the Rings
set, the separate volumes have a perfect reading size!
On this second shelf are my works of Christian fiction and some of the general ones. There are a few books on this shelf I've not yet read:
I was Alice
by Melanie Benjamin and
Call the Midwife
by Jennifer Worth (the book on which the popular BBC series was based!)
The third shelf contains the rest of my works of fiction, including my collection of Jasper Fforde's! (Plus some autumn material from the forest!)
This shelf contains some children's books, gift books and my collection of inspirational non-fictional works.
The bottom shelf has the rest of my non-fictional work; some travel guides, a number of my study books and works on interesting historical subjects.
Hope you enjoyed this look into my book collection! Will you be participating in this link-up as well?