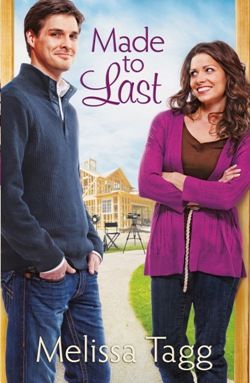 Miranda 'Randi' Woodruff, the host of a well-known home-building television show has been living a lie. For years, she's talked on her show about her husband, but she's not really married! When the network begins to talk about cutting her program, Randi's producers think it's time to let her husband appear in public and a fake husband is soon found. At the same time, Matthew Knox, disgraced journalist, takes on a last-chance assignment to write and in-depth story about Miranda. All his digging around brings him soon close to the truth, but also to the woman herself.
Though I love a good romantic comedy movie now and then, I'm not a big reader of books in the same genre. There are some 'Austenesque' (Jane Austen inspired) romcoms I loved, but Christian contemporary romance doesn't often click with me. The premise of Made to last sounded very interesting and unique, with the home-building tv show for a background (I'm a big fan of Extreme Home Makeover!), so I decided to give it a try.

Main characters Miranda and Matthew are interesting and relatable people, who go through quite some development in the novel. As they spend time together, there are some genuinely sweet moments, but unfortunately mixed with some less believable events. (My annoyance about this left me wondering about why I would happily grin about some silly things couples in love do in a romcom movie, while I don't like them in a book. I haven't yet found the answer...)

Melissa Tagg's writing style is fresh and pleasant and quickly takes you along through Miranda and Matthew's changing lives. A thing which now and then irritated me was the 'cutesy' language. I might not be a native English speaker, but do people really talk to each other like that? Quite a lot of things happened in this 350-something paged book, making the narrative
sometimes
feel rushed. Complicated problems in Miranda's live seemed to disappear within a few pages, leaving me feel not entirely satisfied.

All in all, I thought Made to last was a nice one-time read and not a bad debut novel, but in my opinion it was trying too hard to be funny and cute and everything a romantic comedy should be and in the process sometimes overshooting its mark.
I received an ebook version of this novel from NetGalley and the publisher Bethany House in exchange for an honest review. Made to last is available in paperback and ebook versions here.