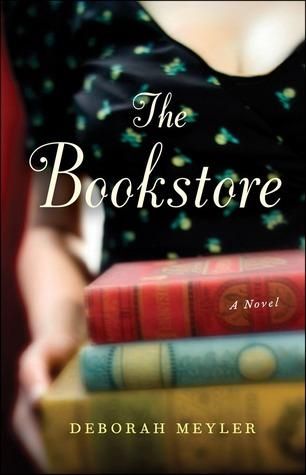 'An English(wo)man in New York', that is what PhD student Esme Garland is. She loves her job at Columbia University, loves exploring her new city and loves doing so even more on the arm of her handsome and rich boyfriend Mitchell van Leuven. In short, life is close to perfect, until Esme discovers she's pregnant... Before she can even tell Mitchell about it, he unexpectedly breaks up with her and Esme is on her own. Determined to see it all through, Esme decides she needs a job and finds one in her favourite second-hand bookstore; The Owl. The bookstore becomes her sanctuary and she develops a friendship with owner George and even taciturn night manager Luke. Then Mitchell steps back into her life and asks for a second chance.
As a bibliophile, I love bookstores. And second-hand bookstores, with their unexpected finds and appealing prices are even better! No surprise therefore I was attracted to the synopsis of
The Bookstore
by first-time author Deborah Meyler.
The Bookstore
is a charming and beautifully written novel, sure to appeal to anyone who -like me- likes to stick their nose in old books or stroke their spines! Unfortunately, the story and the characters fell somewhat short of being what I hoped they'd be.
Esme is in many ways and interesting and loveable character. I recognized myself in her love of the small joys of life and her enthusiasm at discovering new things. You also cannot but cheer at her determination to do the right thing: keep her baby, learn to be a good mother, finish her PhD, be good at her job at the bookstore. It is clear Esme is an intelligent young woman (otherwise she wouldn't be at Columbia I guess), but in her relationship with Mitchell she's nothing if not naive. To the reader it's quite clear from their first on-page meeting he's no good and this is shown time and time again throughout the book, but Esme seems to do little more but shrug her shoulders and resume the relationship. Now I understand love can make you blind, but the thing is, it's never really clear just why Esme is so in love with Mitchell. Apart from the physical attraction, little is shown of a real connection between these two. I would really liked to have seen more of their relationship before Esme found out she was pregnant to understand their connection better. I also thought it was a pity we didn't get to know the characters at The Owl better. Though George and Luke play important roles in Esme's character development, we hardly know more about George then his love of health foods or about Luke then that he plays guitar very well. I would have loved to know what made these men who they where: why did they work in the bookstore, what did they want out of life etc. Other bookstore-related characters, both employees and customers, get even less attention, even though they are described on the back-flap of the book!
The writing of
The Bookstore
is really beautiful; descriptive and lyrical. As Esme walks through New York, you feel you're walking there with her, being pointed at the small things that make the city what it is. The novel is sprinkled with little artistic or philosophical musings which are lovely to read. As I don't know much about art, I didn't understand a lot of the references to modern art and it's makers, but this didn't bother me. One prime example of the beautiful writing style of Deborah Meyler is a conversation between George and Mitchell about the worth of a book, which I read enthusiastically nodding. I love it when a book makes me do that!
The ending of the novel is rather sudden and different from what I expected. Though it shows us Esme in a relatively stable place in her life, many questions are left unanswered and relationships left open-ended. Though I'm usually very much a 'happy ending' type of girl and I was kind of disappointed with the ending of
The Bookstore
at first, thinking about it some more has made me more appreciative of the ending, like it really fits with the style of the book. What definitely did not fit with the lyrical style of this book, where some of the more sensual scenes, which where way more descriptive then necessary and left me with an unpleasant feeling.
In short,
The Bookstore
is a very good debut novel and one that will certainly appeal to booklovers, if you can excuse some sloppy characterization.
I received an ebook version of this novel from NetGalley and the publisher Gallery Books in exchange for an honest review. The book will be available from August 20th onwards

What to know: Esme is pregnant out of wedlock, sexual scenes between her and Mitchell are described a few times, including a sensual chat conversation. She thinks about abortion at a time. A character is described to please herself. A minor character is addicted to drugs and later dies, probably from an overdose. A birth is described, though nothing graphically.