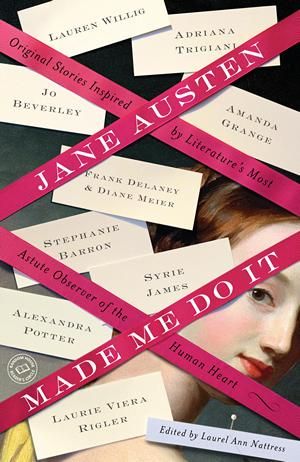 More than 200 years after she published her first novel, Jane Austen still is an inspiration to authors today. This is evidenced by the large numbers of 'Austenesque' literature appearing on the market. I think no Austen fan is wholly immune to the attraction of these books, which promise us a new look at a beloved story or characters from Jane's novels placed in our familiar modern world. I at least am not afraid to say I read and enjoy an 'Austenesque' novel ever so often!
Jane Austen made me do it
is a collection of no less than 22 'Austenesque' short stories, written by well-known authors in the genre, such as Amanda Grange and Lauren Willig, but also newcomers and the winner of a story contest at the Republic of Pemberley! There are a great many different styles and subgenres in this book, including sequels or missing scenes from Jane Austen's books, stories from the life of Jane herself, supernatural stories and modern stories inspired by Austen's works. Such a diversity of stories makes it hard to write a review of this book as a whole. Therefore I will give a few remarks on the total work and then review 5 favourite and 2 less liked of the individual stories.
Firstly, what a great idea to bundle these Austen-inspired stories! I think the genre lends itself well to the short story format and it's very pleasant and relaxing reading. I enjoyed the largest part of the stories in this book very much. I'm sure there are many more stories like this just waiting to be written and I for one wouldn't mind a
Jane Austen made me do it
- part 2. If I might make one suggestion as to the contents, I would like some more modernized adaptations, as I'm partial to those (blushes...) and I missed those in
Jane Austen made me do it
.
Favourite stories from Jane Austen made me do it
Waiting by Jane Odiwe
A sweet and wonderful sequel scene to
Persuasion
, in which Anne and Wentworth both look back and look forward on the morning after their second engagement. Written in classic Regency style, but never feeling stilted and very true to the characters Austen wrote.
Nothing less than fairy-land by Monica Fairview
A look at the newly married life of Emma and Mr. Knightley and the 'slight' problem they have to overcome in the form of Mr. Woodhouse... Another story in true Austen style and giving life to all the beloved characters from
Emma
. Both funny and touching, it answers a question I think many readers have upon finishing Emma: how does Mr. Knightley manages to life under the same roof as Mr. Woodhouse?
Heard of you by Margaret C. Sullivan
How interesting and unique, this story exploring how Austen's happiest-longtime-married-couple, Admiral and Mrs. Croft came together. With a background of the naval life in Regency times and also a look into Wentworth's time as a junior sailor, a charming tale of family, friendship and love.
Letters to Lydia by Maya Slater
Maria Lucas writes to Lydia Bennet during her time at Hunsford Parsonage. A look at a part of Pride and Prejudice from an unexplored angle, very funny and exactly as you expect Maria Lucas would correspond with Lydia, with lots of exclamation marks and capitals!
What would Austen do? by Jane Rubino and Caitlen Rubino-Bradway
A teenage boy, bored during his summer holidays, is sent by his Austen loving mother to English Country Dance classes and starts liking it much more than he thought. This might be the most original contribution to
Jane Austen made me do it
and a real tribute to the influence Jane's works can have on just about everybody! It was really fun to read about a teenager discovering how much fun reading Jane Austen can be and how he more or less, found himself through her works.
Least favourite stories from Jane Austen made me do it
The Mysterious Closet: A Tale by Myretta Roberns
Cathy Fullerton takes a holiday in a converted abbey, but it might just get more Gothic than she's bargained for. Really, what was exactly the point of this story? I cannot say a lot without spoiling you, but I totally did not get what the author was trying to convey and found her use of Henry Tilney not respectful, to say the least.
A night at Northanger by Lauren Willig
The crew of a struggling ghost hunting tv program is forced to spend the night at Northanger Abbey. Another ghost story and yes, I must admit I don't like these very much to begin with. But the story and the Jane Austen connection was totally illogical and the main character not a person you like or become interested in easily