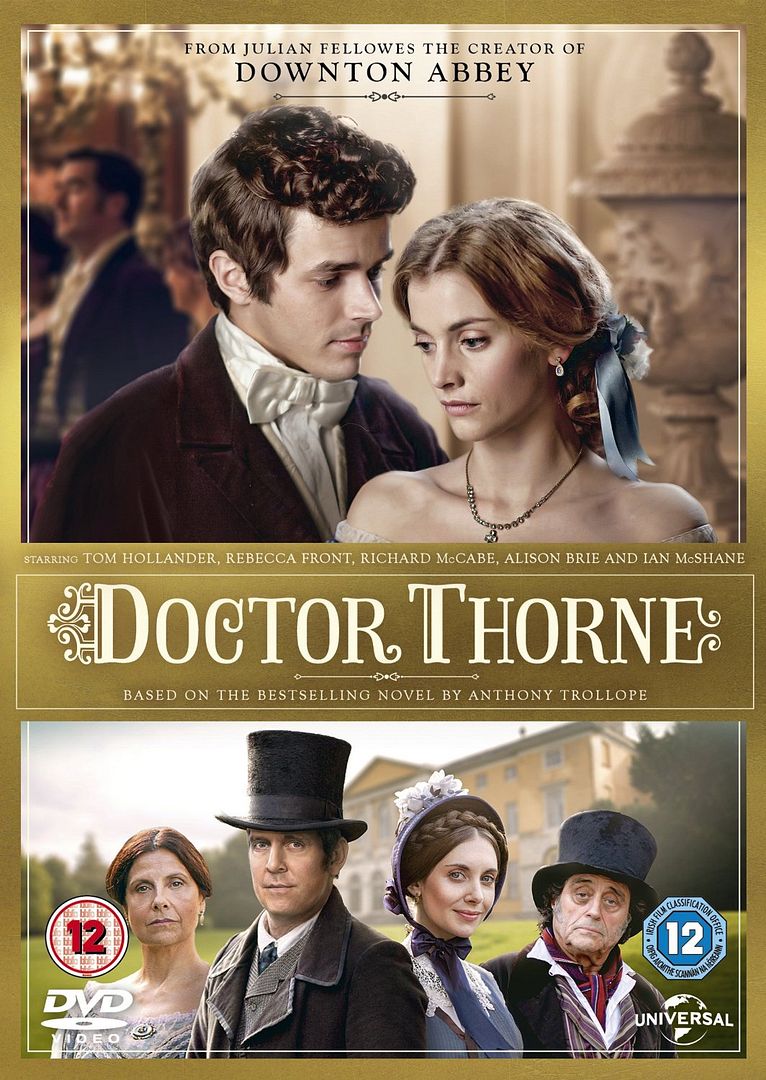 Doctor Thorne, the physician of the town of Greshamsbury, lives a quiet life with his niece Mary. Mary, though her parentage is a mystery, is often in the company of the Greshams, the squire and his family. This all changes when the relationship between Mary and Frank, the heir of Greshamsbury gets romantic. Suddenly, questions of money and class rear their head and threaten to tear friends and family apart.
Doctor Thorne
is a three-part British miniseries penned by Julian Fellowes, ofcourse best-known for
Downton Abbey
. The series is an adaptation of a novel by Anthony Trollope, of which previously - among others -
He Knew He Was Right
and
The Way We Live Now
were adapted.
First off, it was great fun to get a new 19th century adaptation after the last few years it has been more the fashion to produce 20th century period dramas. Doctor Thorne is a real old-fashioned costume drama, with carriages and great houses and lots of beautiful dresses! It looks amazing, very lush and colourful! There will be a lot to enjoy for lovers of historical costumes, though there are some things a bit anachronistic (especially the amount of flowers in the ladies' hair, read a funny article about it
here
).
I thought the casting was mostly spot-on. Tom Hollander was very good as the quiet and kind doctor Thorne. His 'nemesis', Lady Arabella Gresham, was masterfully played by Rebecca Front. I didn't know Alison Brie at all (though she's no newcomer), but I loved her in the role of the American heiress Miss Dunstable. She managed to be playful and different without resorting to the typical 'crass American' trope. The main couple of Mary and Frank were played by newcomers Stefanie Martini and Harry Richardson. They were both fine, but didn't really stand out. They make a cute couple, but the chemistry is lacking a bit, though this might not just be the actor's fault.
The main problem with
Doctor Thorne
seems to be the time. For such a sprawling Trollope novel, three episodes really does not give a lot of room for character development. Some characters in this miniseries clearly suffer from this, such as Beatrice and Augusta, the Gresham daughters and their husband-hunting endeavours. I'm listening to the novel at the moment and though this does lean towards too long and too detailed (rather typical for Victorian works...), there is so much more characterization of all the Greshamsbury people and much more background as to why people acted the way they did. I personally feel that this would have been a better and less rushed adaptation with 4 or 5 episodes.
All in all,
Doctor Thorne
is a sweet and lovely looking costume drama. It's definitely worth the watch, though I don't think it's going to be a classic.