Bookish and Not-So-Bookish Thoughts is a weekly blogging event hosted by Bookishly Boisterous.
It allows book bloggers (and non-book bloggers) to write about pretty much anything, bookish or otherwise (i.e. sharing exciting plans for the weekend,
rants on things they've encountered during the week etc.)
Phew, it´s been almost half a year since I last did one of these ´Thoughts´ posts! High time for another random update of many areas of my life ;-)
1. Personally, I've been rather busy. After my PhD defense in June, I got an extension of my contract until the end of 2016. I was ofcourse really happy to still have a job! I've been working really hard as our group is trying to fit as much experiments as possible into these few months, before the project (and funding...) really ends. And ofcourse, at the same time, I have to keep on applying for new jobs as well. I've decided to take a 'sabbatical' in January and February. I need time to breathe, recharge and do things I've been wanting to do for years but didn't have the time for. So, who knows, I might post a lot of reviews in these months....
2. So, a few weeks ago, while I was asking myself 'Did I actually write a review about movie X, yes or no?', I decided to add a list of all my book, movie and tv-reviews to my blog. You might already have seen it, as it's now an extra page on my blog
here
. It also includes things I reviewed before 2013, only on my LiveJournal. It was quite interesting to go through all these old posts again and read about things I'd almost forgotten I'd read or seen!
3. In the last few months, I've been reading some non-fiction Christian books for the first time in years. Many years ago, I had a view dissapointments reading some 'easy-solution-to-be-a-perfect-Christian' books and gave up on these books altogether. But, I realized I do need spiritual wisdom, so dove back into the genre after getting reading tips from someone I trusted. I read and (mostly) enjoyed
Patience with God
by Tomás Halík and
Walking with God through pain and suffering
by Tim Keller. So, now my question to those of my readers who are Christians: what spiritual books could you recommend which are hopefull but still do justice to our messy modern lives and the confusion of being human?
4. I've been going through two classics the last few months as audiobooks. I reread
Jane Eyre
together with some other people with Hamlette as our guide through her
read-along
. It was great to read this book in this way and I discovered so many new angles to this 'golden-oldie' through Hamlette's chapter posts and the insightful discussions in the comments. On the other hand, I've been listening to
Doctor Thorne
by Anthony Trollope for aaaages. My goodness, is this story long-winded or what? When I wrote my
review of the adaptation
a month ago, I already mentioned the book leaned towards too long and now I can just say it IS way too long. Oh well, luckily I have enough dishes, ironing or cooking time to listen to audiobooks!
5. Recently, I went to a really great museum exhibition of works by Sir Lawrence Alma-Tadema. It's the biggest exhibition of his work ever and it's back in the place where he was born and raised: the province of Friesland in The Netherlands. It's funny, before this exhibition I knew the painter from British museums, but I never actually realized he was Frisian, though his name might have been a giveaway... Anyway, I'm proud we share the same roots, because I adore the style of his paintings. And did you know many classic Hollywood movies about classic times were actually inspired by his paintings? (Here's a
link
to a HuffPost article about the exhibition, figure that, a Dutch exhibition in Huffpost!)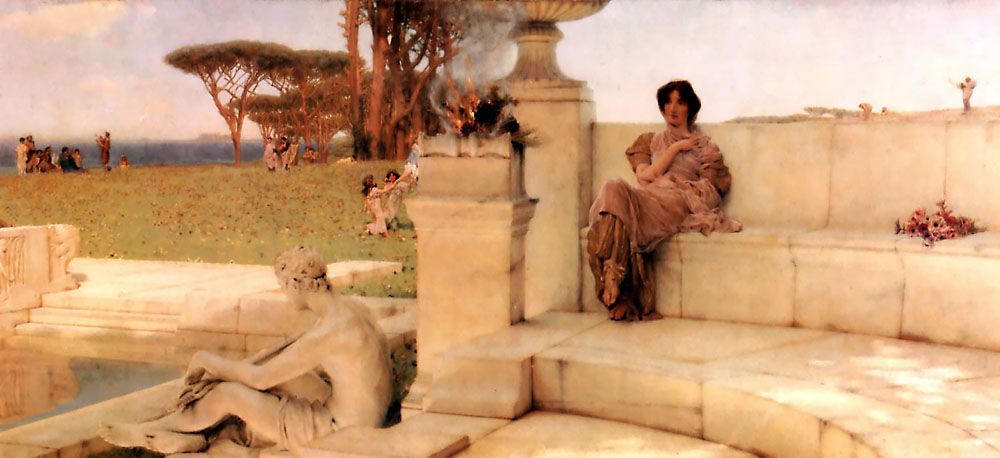 6. Some news from the Medieval front ;-) My sword has a scabbard now. It was made specially for me by a friend and fellow-swordsman, who is great at leatherworking. I'm so happy with it and it's much easier and safer to transport my sword now!
7. Look, I love the BBC and ITV and most of what they produce on period dramas, but right now I want to tell them: 'Just stop for a year or so to let me catch up on everything!' I've been reading all your reviews on
Poldark
and
Victoria
etc, but haven't watched one episode myself and
look
at what's currently airing and also looks very interesting (it stars Hattie Morahan!)
Well, that's it from me again! (Tsssk, even after half a year I can't fill all 8 'thoughts'....) I hope you're all well and reading and watching good things!