It's been some time since I posted, I have been on holiday and after that, recovering from my holiday ;-)
As you might expect from me, first things first: my holiday pictures!!
This year, I went outside of Europe for the first time! I went to Canada, first four days to a scientific conference in Guelph, followed by a holiday in Toronto and Ottawa.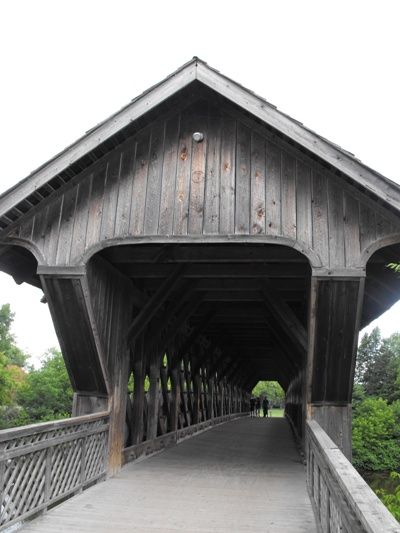 Day 1:
In Guelph, we had a day of free time before the conference started. With my five colleagues we explored the area and among others came upon this cute covered bridge.
We also saw some 50-60 geese crossing a busy road in the middle of Guelph. Luckily all the cars stopped and no harm was done.
Day 2:
In the afternoon of our first conference day, we were loaded into buses and went to Toronto to have dinner at the CN Tower, really a great opportunity! The CN Tower, as you might know, is the highest tower in North America (and was highest in the world until 2010) with 553 m/1815 ft.
The restaurant is located at around 350 m and from it you have an amazing view of Toronto and Lake Ontario and the wide surroundings. The most amazing thing however is that the restaurant turns around, so you get a 360 view during your dinner!
We were having dinner from about 8-10, so could see the city around us getting dark!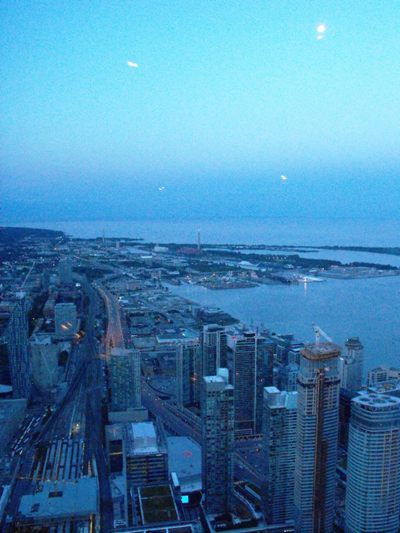 Day 5:
After the conference I went back to Toronto and stayed there for some days. The first day, I explored a large part of the center of Toronto.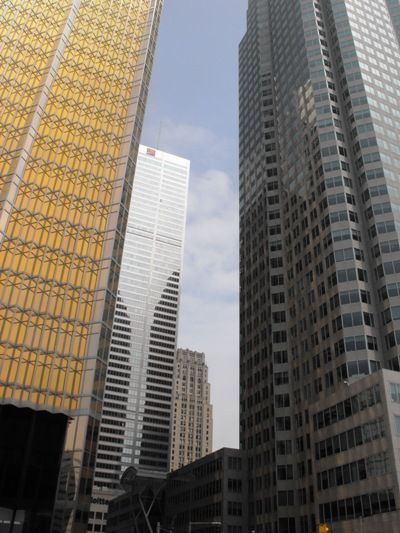 Toronto is the biggest city I ever visited so far and I must say, I wasn't immediately charmed by it's tall buildings and overall busyness. But then I discovered you can make very interesting photographic compositions with the skyscrapers from different building styles and materials!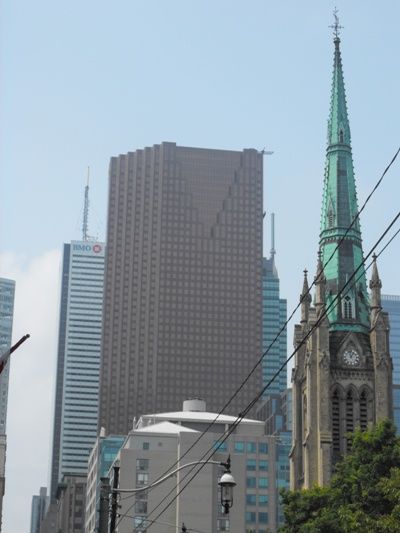 And luckily there were also some older buildings in the city, such as the St. James cathedral (Anglican)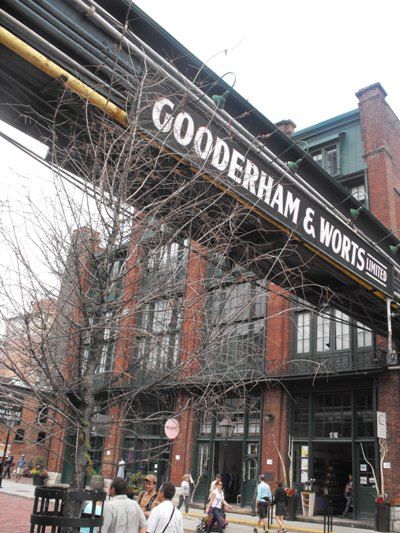 A very charming neighbourhood is the Distillery District, a 19th century distillery complex which has been redeveloped into an area full of small shops, restaurants and galleries.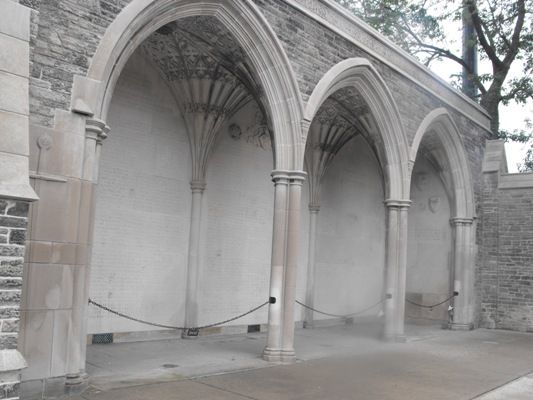 I also walked around on the campus of the University of Toronto with it's many neo-Gothic buildings. There is also this monument to the members of the university fallen in WWI, their names are inscribed in the walls.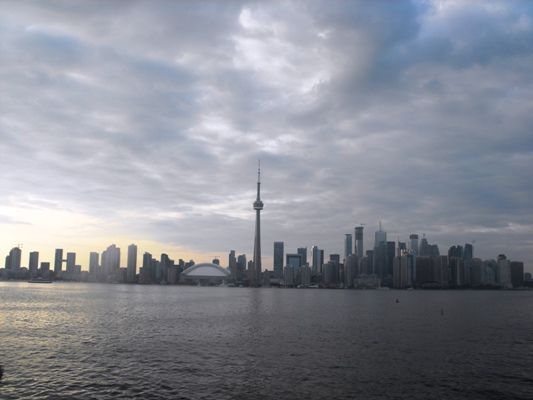 In the evening I took a ferry to the Toronto Islands which lie some 10 minutes by boat from downtown Toronto. Besides being a really nice and green place, you got the absolute best views of Toronto from here!
Day 6:
I took a bus-tour to Niagara Falls.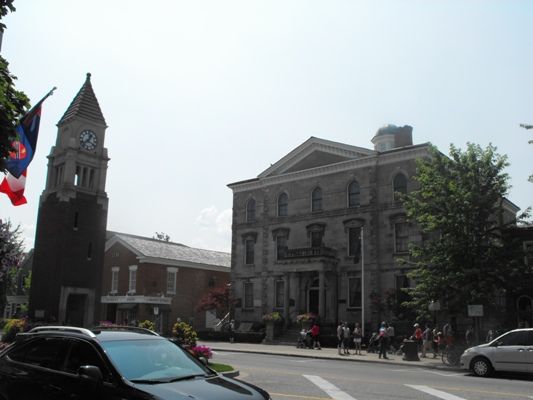 We stopped at the charming town of Niagara-on-the-Lake for lunch.
And then went on to the falls which are just amazing! The photographs really don't do them justice, at-all.
What a force of nature!
Day 7:
I visited Black Creek Pioneer Village located close to Toronto. The history lover in me was very happy to step into this historic village with rescued buildings from 1820-1870.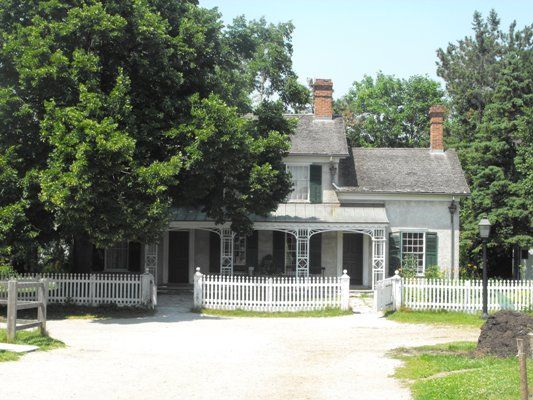 There was a great range of buildings, from simple farm houses to this pretty doctor's house. There were also multiple shops, a school and two churches.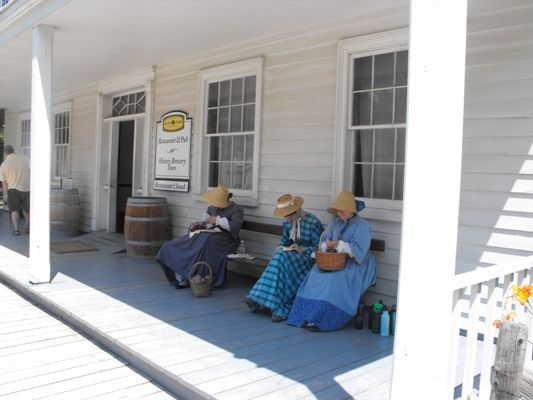 The costumed personnel was very enthusiastic and really made you feel like you were in the 19th century.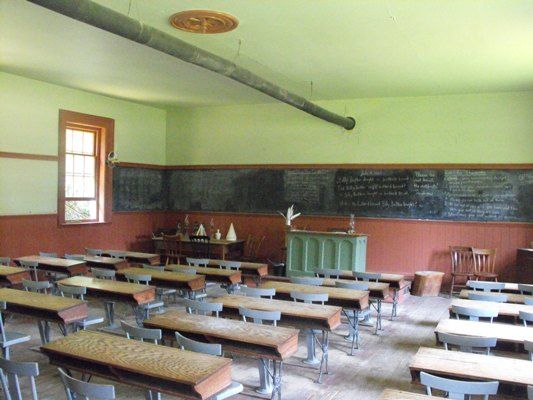 This is Dickson's Hill school, a typical one-room school from 1861.
'Soldiers' from Fort York in Toronto were at Black Creek that day and demonstrated musket techniques from the early 1800s.
That evening I met and had dinner with Li from caffeinatedlife.net
! It was really nice and we were so busy talking that we forgot to take a picture....
Day 8:
Scarborough Bluffs is an area of Lake Ontario coastline with quite dramatic cliffs.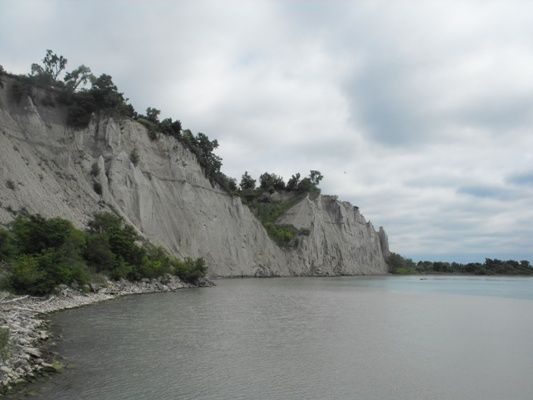 Spadina House is the mansion of the rich Toronto banking family Austin. The house is styled as it was in the inter-war era of the 1920s/1930s.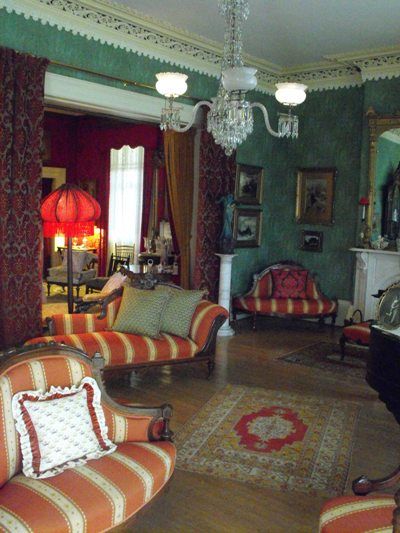 I had a great and very informative tour through the house. The tour guide could tell a lot about the family, making the house come to life almost as if the Austins could come through the door at any moment!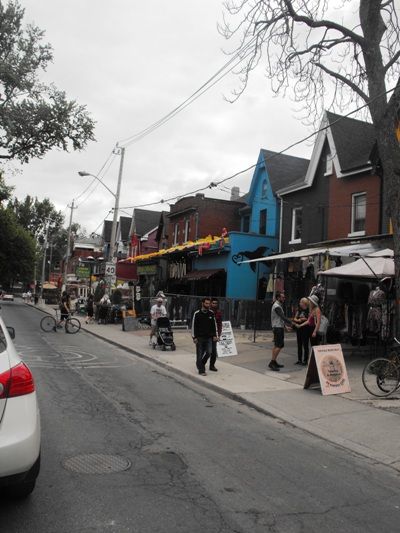 Kensington Market is a multicultural area of Toronto with all kinds of slightly alternative little shops and restaurants. I especially liked the 50 kinds of beans and peas you could buy at one vegetable store!
Day 9:
I traveled to Ottawa by train and it finally really dawned on me how huge this country is. In 4 hours you can easily go from North to South in the Netherlands, while these 4 hours between Toronto and Ottawa are just a small piece on the map of Canada :-0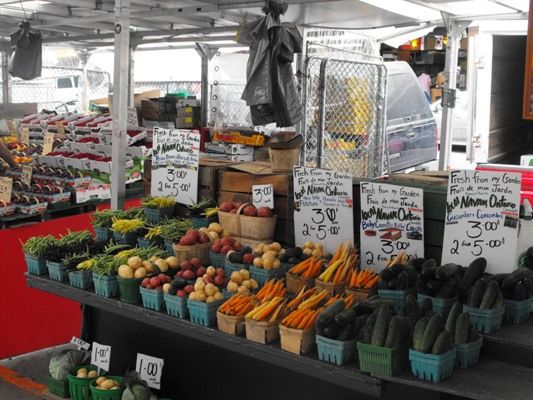 On the ByWard market in Ottawa they had the most amazing looking fruit and veg (and very creative displays too!). It was a pity I didn't have any need for them...
I visited the National Gallery where they had a section with Inuit art including this really beautiful carved antlers.
Day 10:
I walked across the bridge which connects Ottawa with it's Quebec 'sister-city' of Gatineau. From the 'other side' you get a really good view of the skyline of Ottawa.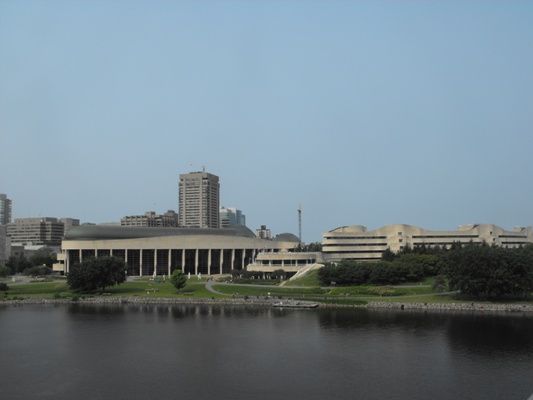 I visited the Canadian Museum of History where I learned a great deal!
In the afternoon I rented a bike. My tired feet where very happy with that! I biked along the Rideau Canal and back along the Rideau river, two waterways running through Ottawa. About halfway I came across the beautiful Hog's Back Falls.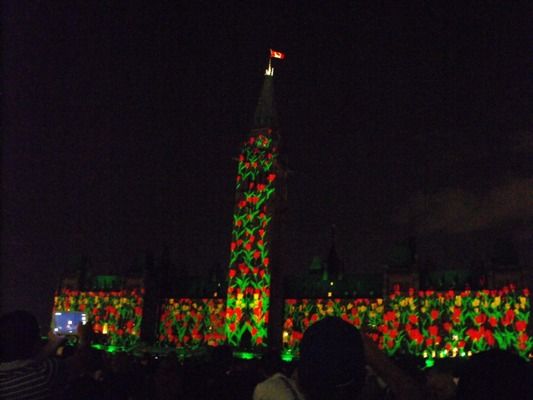 In the evening I watched Mozaika, which is a light and music show displayed on the Parliament building. In about 30 minutes it tells the story of Canada: it's history, culture and nature. I thought it was really great, we definitely should have something like this in The Netherlands as well. I'll go and write a letter to the PM about it ;-)
Day 11
: I had booked a walking tour through Ottawa. Even though I had walked around the city for 2 days already, I still learned a whole lot of new things from this tour.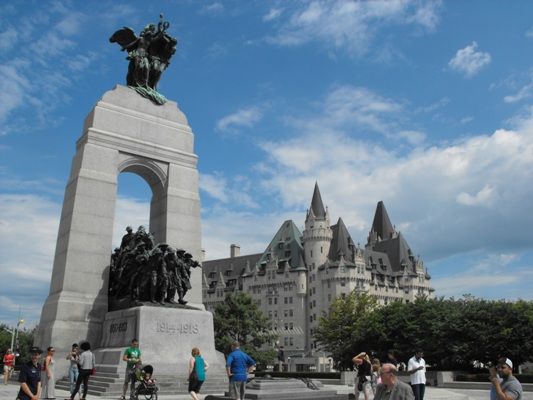 The National War monument and the Chateau Laurier hotel.
The Peace Tower from the Parliament buildings.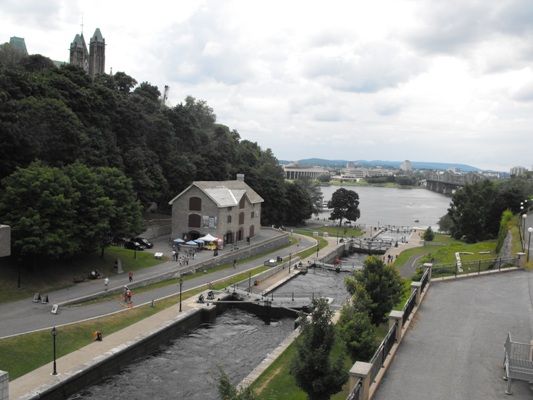 The Ottawa locks where the Rideau Canal flows into the Ottawa river. Next to the locks is the oldest surviving building from Ottawa, the Commissariat, where laborers building the Rideau Canal where paid their wages from 1827-1832.
Day 12:
Time to go home again... Canada, it was great to get to know you!