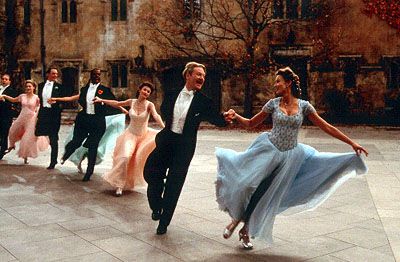 Love Labour's Lost is one of Shakespeare's less well known comedies. In 2000, Kenneth Branagh, Shakespearean director and actor extraordinaire, adapted this play into a musical movie. In Love Labour's Lost the young King of Navarre and three of his close friends take an oath to devote themselves to study for three years and not see any women during this time. Their decision is soon made difficult when the Princess of France arrives with three lady's maids to talk to the King about a political matter. Though the ladies have to camp outside the court, the King and his companions do visit the Princess. Inevitably, the King falls in love with the Princess and his friends also are not wholly immune to the charms of the lady's maids!

I heard about this little known movie for the first time last year, when someone reviewed it on their blog. It sounded interesting, so I tried to find it (which is not very easy!) I'm glad I took the trouble though, because I really enjoyed this funny and quirky little movie. It's a strange mix of Shakespeare set in the WWII era mixed with popular showtunes and some dance, but somehow it works and it charms. The story is simple but recognizable and sweet. The singing and dancing parts of the movie where sometimes a bit random, but overall performed well and helped to make the movie light and funny overall.
The acting was overall good, with real standout performances by Kenneth Branagh and Natasha McElhone as his lady-love. Kenneth Branagh is ofcourse a class of it's own when it comes to Shakespeare and he can speak the Bard's lines like no other. His delivery of the
'And, when love speaks'
act is just really beautiful and inspiring! Alessandro Nivola played the King of Navarre and he reminded me a little bit of Tom Hiddleston with the way he speaks and acts. That's never a bad thing ofcourse! It also looked as if the actors really had fun making this production. There was great rapport between the actresses as a group of giggling girls and the actors as they are teasing each other about being in love.
The movie is not without it's faults either. I'm not a Shakespeare scholar at all, so I can't judge about the adaptation qualities of this movie. But the setting of
Love's Labour's Lost
in WWII was a strange choice which did not really add anything. There were some newsreels throughout the play speaking of the happenings in Europe and at the end of the movie a scene where the King and his companions are seen fighting. These distracted from the main story of the movie and even clashed with the light tone of the story.
Next to that, there was one very sensual dancing scene which in my opinion was unnecessary and didn't fit well with the sweet tone of the rest of the movie. There are also some comical secondary characters which only have a very small role and their scenes therefore do not really make a great impression. I read that the secondary storyline was severely cut for this movie. I think it might have been better either without this storyline altogether or with an extra ten minutes of running time to develop these characters some more.
All in all, if you're looking for a sweet and funny non-typical comedy, I can definitely recommend this movie!