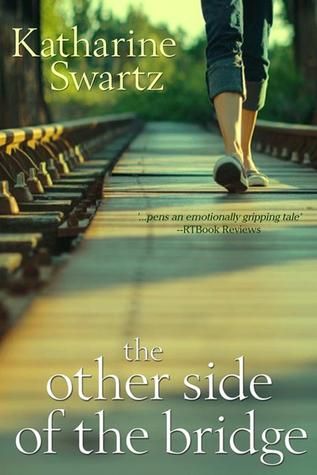 Ava Lancet has lost her baby and her job and is not sure her marriage can ever be repaired again. Then she hears she has inherited a house in a small Greek village which belonged to her grandmother. On an impulse, Ava moves to Greece to live in the house. The house is severely dilapidated and Ava starts to doubt her decision. But she is warmly welcomed into the village and slowly builds something of a life for herself there, including the handsome widower Andreas Lethikos. When an old woman mistakes Ava for her grandmother, she dives into stories from Greece in WWII to discover her grandmother Sophia's remarkable story.

Books with both a 'past' and a 'present' storyline can easily disappoint when one storyline gets too much attention at the expense of the other or when the connection between the storylines is 'pushed' and unrealistic. But, in
The other side of the bridge
, Katharina Swartz balances both parts of her book very well and gives both Ava and Sophia a fully realized story.
I could easily relate to both Ava and Sophia, even though they lived such very different lives from me. For me, being able to related to characters is important for enjoying a novel and I think it's possible for even the characters most 'alien' to our own lives. In
The other side of the bridge
, Katharina Swartz brings the characters close to the reader by showing the details of their everyday life, by showing they are simply human beings, just like us. For Ava, what endeared me to her, was her going out to a nearby city and buying everyday utensils for the rundown house she finds herself in. In this book, we follow the characters not just in life-changing happenings, but also in the 'mundane' details and I like that!
The setting of this book was really interesting. I don't read many books taking place in Greece and know very little about the country and (to my shame) about what took place during and just after WWII in Greece.
The other side of the bridge
shows very well the tension and civil strife which the Italian and Nazi occupation brought to Greece and also how the legacy of this time still plays a role in current Greek society.
Ofcourse there was also some romance in this novel, although the romances of Ava and Sophia were not the main storyline. I loved both the romances; they were sweet, realistic and not cliché. Ava's romance story managed to surprise me, which is always a good thing! I really liked Alex, Sophia's 'love interest', he was such a sweet man. I wouldn't mind reading more of their story.
All in all, The other side of the bridge is a really great novel about two strong women which I think will appeal to many readers.
I received an ebook version of this novel from NetGalley and the publisher Kate Hewitt Limited in exchange for an honest review.