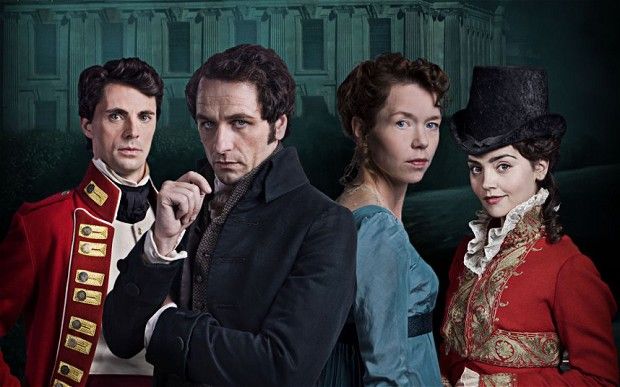 Everytime an Austen novel is adapted or another program related to 'dear Jane' is being made, all over the world Austen fans let themselves be heard with two distinct responses: joy over 'a new Austen' and trepidation because 'will it do the book/Jane justice'. Last summer the BBC announced it was going to adapt the Pride and Prejudice sequel Death comes to Pemberley by well-known British crime writer P.D. James. The responses from Janeites where mainly trepidation in this case: will this be true to the spirit of P&P? Will the actors be good enough to portray the beloved characters?
Between Christmas and the New Year, Death comes to Pemberley was broadcast in three parts and I was able to see it directly (yay for my mum having BBC on her telly!). The action starts six years after the end of P&P. Lizzie and Darcy are married and have one son. Lizzie is busy preparing for the annual Pemberley ball and slightly nervous for the arrival of her parents. One of the first guests to arrive is Colonel Fitzwilliam, who has his eye on Darcy's sister Georgiana. But Georgiana herself eagerly awaits the arrival of the young barrister Mr. Alveston. At the day before the ball, a carriage comes racing up the drive and a screaming Lydia flies into Lizzie's arms. She was on her way to Pemberley with her husband Wickham and their friend Captain Denny, when they got into a fight and Lydia heard gunshots. Soon, all the men of Pemberley are in the dark woods, searching for Wickham and Denny. What they will find, will throw Pemberley in chaos and make life very difficult for Lizzie and Darcy.

First of all, what joy to see a sequel to P&P adapted by the BBC. There's just a quality to their programs few (if any) other broadcaster can equal. The grand house, eye for historical details and lovely costumes immediately transport you to the Regency era. I've read a few P&P sequels, but it's still something different to see the beloved characters come to life before you! And they are all there: Darcy, Lizzie, Jane, Wickham, Lydia, Mr. and Mrs. Bennet etc. Plus a few interesting and generally well-rounded new characters. I've not read the book Death comes to Pemberley before, so the story was new to me. I'm not a big mystery fan myself, but I still liked the story very much, with next to the mystery enough character development, insight into the Regency law practice (reminded me a bit of Garrow's Law!) and even a bit of romance! The mystery itself was well thought out, in my opinion. I didn't guess who the real culprit was until the end. In some parts of the story I wouldn't have minded a bit more background, especially the close relationship between Lizzie and the servant family of the Bidwells.

The characters were in general close to the way Austen wrote them and the actors chosen well from among Britain's best. From the moment the main actors were announced, I was very content with the choice for Darcy; Matthew Rhys. Having seen him in The mystery of Edwin Drood, I knew he could brood with the best of them and indeed his Darcy did not disappoint. Just different enough from 'P&P'-Darcy to see he's been 'under the influence' of Lizzie for their 6 years of marriage, but sometimes the silent and proud Darcy of old. And let's not forget Rhys looks very nice in a cravat and long coat ;-) Many people were surprised when Anna Maxwell Martin was chosen to play Lizzie. I thought her portrayal of Lizzie was one of the weakest points of this adaptation. Maxwell Martin is undoubtedly a very good actress (her work in for example Bleak House and South Riding is great), but she's just not Elizabeth Bennet! Not only is her physique very unlike the Lizzie described in P&P, also her character seemed to have changed considerably from the Lizzie we know and love from P&P. In stead of spunky and humorous, this Lizzie was very serious and a bit sullen. I don't know if this is also the case in the novel, but even so, the writers should have known better than to change Austen's most beloved character so! The biggest surprise for me, in terms of characters/actors, where Lydia and Wickham. While I approved from the beginning of the casting of Matthew Goode and Jenna Coleham, I hadn't expected them to be this good! They gave these love-to-hate characters so much depth. Two scenes of Wickham, one with Darcy and one with Lydia, where among my favourites of this production.

In short, I have to agree with Matthew Rhys in the above behind-the-scenes pictures and give Death comes to Pemberley a thumbs up! I would recommend this to any Austen fan or fans of (period) mysteries.

What to know: There is a case of a child out of wedlock. A love scene behind a husband and wife is shown, with the before and after, but no nudity. A murder is committed, the 'body' is shown with a bloody wound on the head. Several people are seen hanged. There are a few (British) profanities.