Dear readers, I'm so sorry I'm only now posting this second part of the Far from the Madding Crowd watch-along. I was so very tired this week that my evenings consisted of hanging on the couch and going to bed early in stead of blog writing....

Without further ado, let's get back to the adventures of Bathseba and Gabriel ;-) For this second part, I watched until 2.11, until the scene where Boldwood confronts Troy in front of Bathseba's house.

In the beginning of this 'episode', we learn two things: Gabriel is not afraid to be honest, not even now that Bathseba is his employer and Bathseba doesn't like being criticised. In fact, after a discussion with Gabriel about her treatment of Boldwood, she even fires him! Not long afterwards, her sheep overeat themselves (and yes, sheep are very unfortunate, I've heard that often enough from family members who keep sheep!) and Bathseba simply needs Gabriel. Isn't his response interesting? In the previous episode Bathseba said that Gabriel would never be able to tame her, but isn't that just what he's doing here, in demanding to be asked for help properly?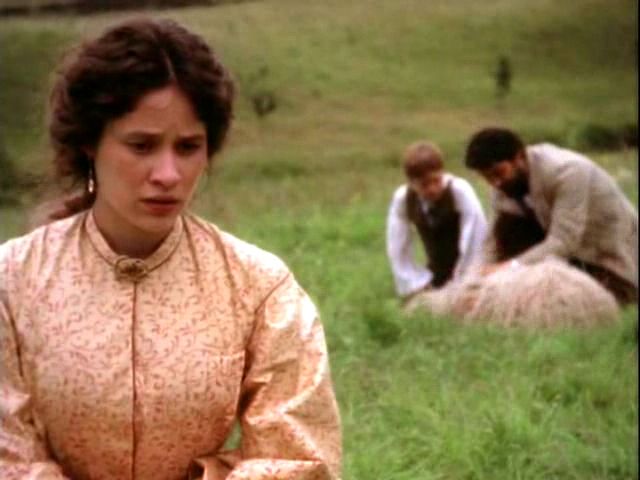 'Sheep are so unfortunate, there's always something wrong with them'
But what we already expected, we find out to be true: Gabriel never stopped loving Bathseba as he admits to a fellow farmworker (I can't for the life of me remember all their names *blushes*). And for a moment it seems Bathseba also gets closer to Gabriel as she compliments him at the shearing and let's him sit at the head of the table at the feast. But Boldwood has not given up Bathseba either!
Bromance Victorian style

In Dutch we have this proverb 'When two dogs fight over a bone, the third will run away with it'. I'm not sure whether this also exists in English, but this is what happens here in Far from the Madding Crowd. As Gabriel and Boldwood both try to win Bathseba's heart, it's Troy she falls for. Troy, the officer we last saw angry and dissapointed after his failed wedding with Fanny, saunters onto Bathseba's farm and charms his way into her affections.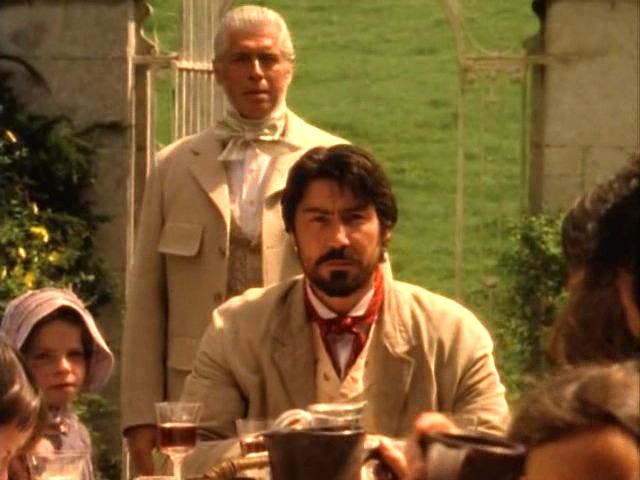 Just when you thought all was going so well....

I'm not sure about the charm of the swordplay scene. You know I love swords a lot, but I wouldn't be charmed by someone almost slicing me through. I guess the sword is a phallic symbol though and it's clear that Bathseba is quickly in love (or at least in lust) with the handsome young soldier.
So much so that she writes a letter to Boldwood she can not marry him after all.
Stung by love

Boldwood is not blind and he confronts Bathseba about her behaviour but again, she's not having it. In fact, she suddenly dissapears from the farm. When she comes back, it's very clear something momentous has changed: she has married Troy! Boldwood, not yet knowing this, tries to bribe Troy to stay away from Bathseba. But Troy just mocks him and shows him their wedding announcement. And so we are left with the knowledge that Troy is not just a charming bad boy, but also just a very mean nasty person in general.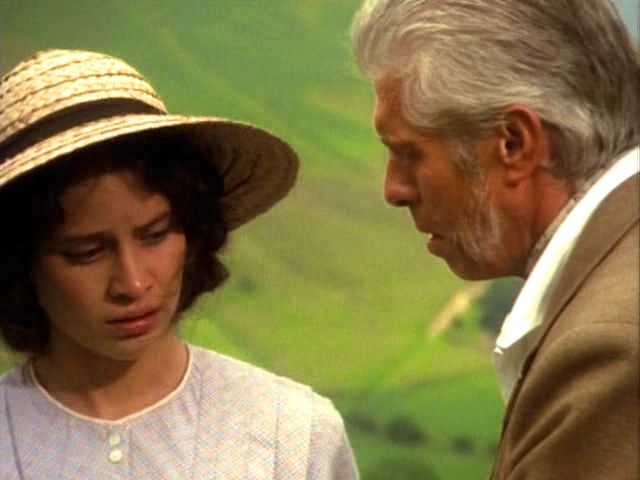 Question of every Hardy heroine: why oh why must all these men fall for me?

Quote of the week: Gabriel: 'Bathseba, you know that I love you and I will love you always. I only mention this so that you know I mean you no harm. Beyond that I put myself aside but I beg you to consider, if you care for your reputation, as I do, be more discreet towards that soldier.'
Bathseba: 'Gabriel, will you leave me now? I don't order you as mistress, I ask you as a woman.'

Discussion question(s):- What do you think made Bathseba give in to Boldwood after the shearing feast? It felt rather like a sudden change for me in this adaptation.
- Do you feel like Bathseba falling for Troy so suddenly is a realistic portrayal of how love can be blind sometimes or more of a imaginative design by Hardy showcasing how fickle and weak women are (one of his favourite doctrines...)
- Bathseba says to Boldwood 'I don't have the loving nature you think I have.' Do you think this is true or if she just likes to imagine herself cold and distanced?