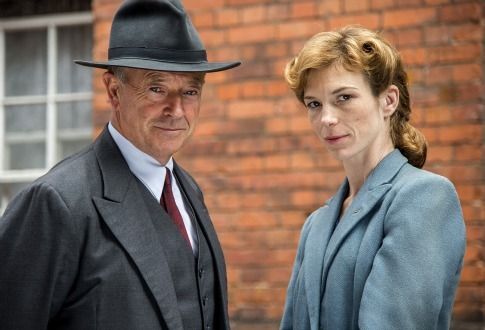 World War II may be over, but the world is still not a safe place. Christopher Foyle, former police inspector in Hastings, now works for the British intelligence service in London. Here he investigates international crime operations together with his unofficial assistant Sam Wainwright, a bright young women who used to be Foyle's driver.


Foyle's War
has gotten so complicated :-S After 5 succesfull series taking place during WWII, the show was suddenly cancelled and ended with an episode celebrating the end of the war. But complaints from fans brought the show back for three more seasons with in 2010, 2013 and 2015. Now we've arrived at series 8, which really truly is the last of
Foyle's War
.
I was totally in love with the early seasons of
Foyle's War
. I'm not a big mystery fan, but still I got addicted to the mysteries Foyle and his assistants Paul Milner and Samantha 'Sam' Stewart tried to solve. All this against the backdrop of the Homefront of WWII and every episode was a little highly entertaining history lesson in itself. I visited Hastings in England a few years ago and went totally fangirl over seeing the familiar sights from the series!
Now I have unfortunately not enjoyed the later seasons so much. It's not the acting, as this is still amazing. Michael Kitchen who plays Foyle is a phenomenal actor, I could basically watch him read a phonebook and be entranced. Guest roles are usually taken by seasoned British actors (in series 8 for example Emma Fielding and Mathilda Ziegler) or young talent, all of them a joy to watch.
It's also not the historical background. Though the stories taking place during the war definitely had something special when it came to historical significance, from the laster seasons I have learned many things about the often forgotten years just after WWII and how many tensions there were in international relations. In series 8 there is an episode about the tensions in Israël (then still called Palestine) where many Jews had settled after WWII which I found very interesting and insightful.
What has changed in these last episodes in
Foyle's War
is the atmosphere, which has gotten much darker. Crime is never a laughing matter, but in the early seasons, with the show taking place in the countryside and with the team of Foyle, Milner and Sam having a warm relationship, there was always a lightness about this show. The story of Paul Milner on
Foyle's War
ended in series 6 and though Sam is still helping Foyle out, it's just not the same. I felt a certain 'tiredness' in these last episodes in the acting of Honeysuckle Weeks, who plays Sam. She was always the light of the show, and I missed that.
No matter how sad it is to see a tv series that you really love ending, I still think they should have ended
Foyle's War
after series 5. That way we could look back on it as that almost perfect period mystery series that it was!