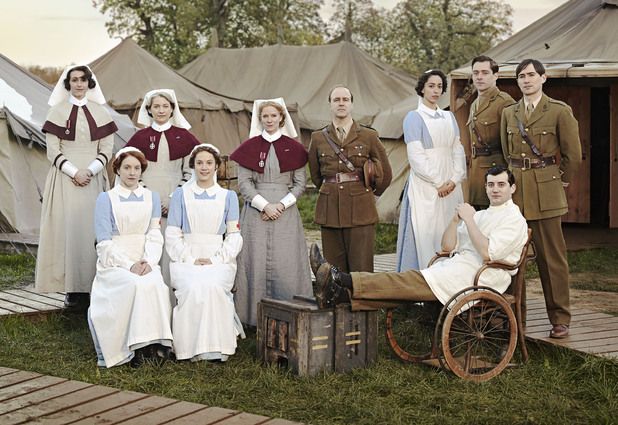 This year, the BBC commemorate the centenary of WWI with a host of special tv- and radio programs. After
37 Days
(
review
), The Crimson Field is the second drama offering of the British. This 6-part series shows the life and work of staff and patients at a field hospital in France. We follow the stories of three VADs, voluntary nurses from (mostly) the middle- and upper classes of society. Though extra hands are desperately needed in the field hospital, the VADs are not welcomed with open arms by the professional nurses who think these women are ill-prepared and naïve. Kitty Trevelyan (Oona Chaplin) has come to France to flee a tragic home situation. Her opinionated and headstrong character soon brings her in conflict with the senior hospital staff. Flora Marshall (Alice St Clair) is a sweet young girl who brightens up the wards and has a steely determination to prove that she can be a good nurse despite her young age. Rosalie Berwick (Marianne Oldham) is seen as an 'old maid' in her home environment and comes to France to 'do some good'. But the constant challenges of the hospital frighten her and her social insecurity alienates her from the rest of the staff. Kitty, Flora and Rosalie have to work together under Matron Grace Carter (Hermione Norris) and assist physicians Thomas Gillan (Richard Rankin) and Miles Hesketh-Thorne (Alex Wyndham).
The lives of (voluntary) nurses during WWI is a subject which interests me greatly. Their efforts helped so many, their background was so different from what they got to endure at the front, there are endless stories to tell about these women. So I was really happy when I saw the BBC was going to make a miniseries about this subject!
The cast of this production is great; it's a nice mixture between veteran actors and new talent. Hermione Norris gives Matron Carter steely strength and vulnerable moments in equal measure and it was really nice to see Kevin Doyle in a very different role from Molesley in
Downton Abbey
! From the newcomers l was very much impressed by the boys: Alex Wyndham as the cheeky but also very kind Miles and Richard Rankin who played Thomas with a great deal of passion (and a lovely Scottish accent!) Besides the main cast there were also some one-episode roles including a great appearance by Johdi May and Rupert Graves as an English lady and her severely wounded husband.
Talking about the one-episode storylines; they touched upon a broad range of issues related to hospital and front life in WWI: shell-shock, amputations, cameraderie, different cultures and class differences, to name just a few. So, in just six episodes,
The Crimson Field
manages to give you a good insight into what life was like in a field hospital around 1914. The longer storylines mainly revolve around the three VAD nurses and their professional nurse colleague Joan. Of these, I was most interested in the heartbreaking story of Joan, but ofcourse I also loved the swoon-worthy romance of Kitty (I'm not going to tell you with whom, spoilers!)
The settings of the series are beautiful with besides the hospital some really pretty beach scenes and scenes taking place in a small French village nearby. As you would expect from the BBC, everything looks tiptop and historically accurate, though maybe, as some critics have mentioned, a little bit too neat and clean. No, despite showing many sides of the war,
The Crimson Field
maintains a relatively light tone throughout, it's not gritty like
The Village
. For me, this did not diminish my appreciation of the series, I do watch tv for my enjoyment and I think there was more than enough 'true to life' in
The Crimson Field
to satisfy my history loving mind.
(See, there ís grit in The Crimson Field!)
The main downside to The Crimson Field is it's short length. The BBC unfortunately decided not to make a second series and this means many stories feel unfinished. We never hear Rosalie's backstory and will Flora ever see her soldier love again?

The Crimson Field is another well-made period drama from the BBC which those interested in WWI or women's history will no doubt enjoy!