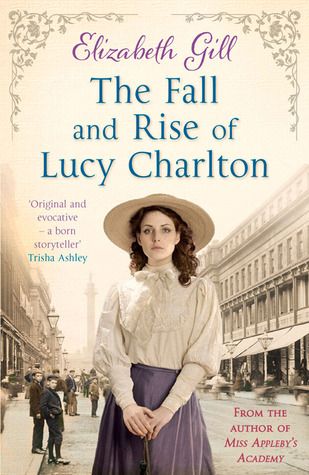 Lucy Charlton dreams of being a lawyer and working alongside her father. Not an easy feat for a women in 1920. But with her place at Durham University, she's at least on her way. Lucy travels home to Newcastle for her sister's wedding, but that very night something happens which uproots her whole life. Soon, she finds herself without a home and without people to fall back on. Lucy finds a place to live in Durham with two kindly old sisters and befriends WWI veteran Joe Hardy. And when she finds a job in a lawyers office, she might be on the road to fulfill her dream after all.

This novel reminds me strongly of the works of Catherine Cookson (from which I've actually only read two books, but watched countless adaptations!). Not only is this story set in the North-East of England, where Cookson also based many of her novels, also the themes are similar: poverty, the plight of women in a time when they had little rights, wounded people building up a new life. Lucy also can easily take her place among Cookson's heroines: smart, kind and eager to better both her own life and that of the people around her. This is not to say
'Lucy Charlton'
was a cliché novel. Actually, I was surprised by the plot quite a few times! But it would be untrue to say Elizabeth Gill has a new and unique voice in fiction.
The story itself was very interesting and definitely kept me hooked from beginning to end. I think this is a book that many people will enjoy reading, as it has many elements: a fascinating historical background, great characters, a family mystery and a bit of romance. I say 'a bit' of romance in earnest, because this element was actually one of the things I liked least about the novel. I just wasn't convinced about the main couple's relationship, it almost felt like an afterthought when they got together in the end. They absolutely had a very special friendship, but I didn't feel any chemistry.
Though I wasn't too fond of the romance, I did like the main characters in their own right. Lucy was a strong and brave heroine and I loved Joe for his quiet kindness and the way he lived his life without caring what other people thought of him. There were many interesting secondary characters as well, I was especially fond of the Miss Slaters, they were darling! Unfortunately, not all the secondary stories were rounded off very well. I found myself thinking 'what actually happened to so-and-so' at the end of the novel and that isn't a good thing!
'Lucy Charlton'
might not be a novel for everyone. It deals with quite some heavy subjects, including abuse. Though nothing is explicitly described, the content is there. For me personally, there were enough lighter and hopeful moments to enjoy this novel as a balanced whole. Actually quite like Catherine Cookson's works ;-)
All in all, this is an interesting, well-written novel which I would recommend for fans of historical novels with strong female leads.
I received an ebook version of this novel for free from NetGalley and the publisher Quercus in exchange for an honest review.