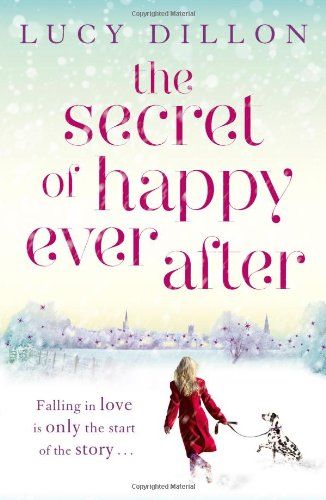 By far the most books I read nowadays are either from authors I've read works from before or have been recommended by friends or in the blogosphere. Just wandering around in the library and picking up random books which 'look good' is a rare occurrence. Still, a few weeks back I had some time on my hands and found myself 'wandering' once more, which is when I picked up The secret of happy ever after by Lucy Dillon. It proved to be a very good random pick!
Anna and Michelle are best friends, but they couldn't be more different. Michelle doesn't believe in love. She's a businesswoman, always looking for the next opportunity to sell more in her shop
Home Sweet Home
. Anna is a stepmother to three girls and finds it hard to connect to them. When Michelle takes over a neglected bookshop, she offers book-loving Anna the position of manager. For Anna, it's a dream come true and her passion for books makes the shop a success. Then Anna's relationship seems ready to break and Michelle is haunted by a figure from her past. And what are actually Michelle's plans with the bookstore?

As a bookworm, I love stories in which books play an important role. While I read a disappointing novel of this type (Deborah Meyler's The Bookstore) last year, The secret of happy ever after was a great example of a 'book for booklovers'! Anna is a character we readers can all identify with: her dream of running a bookstore, of finding the perfect book for everyone, her tries to get her stepdaughters to enjoy reading, they all speak volumes of her bookloving heart. The bookstore Michelle and Anna run is wonderfully described, a place you would want to visit. I loved the enthusiasm with which Anna worked in the bookstore, all the ideas she tried out and the conversations she had with her customers. Many famous children's classics take center stage in the story of The secret of happy ever after, which is great when you recognize these titles and can share with the characters in their love for them.

Though I immediately clicked with Anna, Michelle was also a wonderful character. Her character growth is realistic and I loved the way Dillon let Michelle's inner strength slowly come out during the story. It was also very nice to read how Michelle's inner conflict was reflected in her house and the way she worked. The romance that slowly grows between Michelle and solicitor Rory is one of the sweetest I've read in a long while and I loved how they bonded through the care of the old bookshop-dog!

I couldn't get into Anna's 'romance' as easily, especially as I thought her husband Phil was a bit of a weak character. I wanted to shout at him for the way he treated Anna and let their marriage slowly drift apart. Luckily it all ended well for Phil and Anna, but I would want to have a good talk with him!

The secret of happy ever after may look like a 'chick-lit' on the outside, and though it was an easy and fast read, the story and the characters had great depth and this book definitely had a message to pass on. I would recommend this to anyone looking for a comfort read with a little extra!