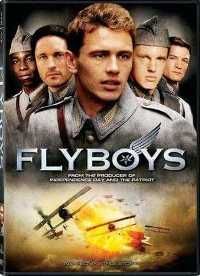 Before the USA entered WWI, a group of American men went to France to voluntarily fight in the French Air Service. With airplanes only invented a decade or so before the War, the machines were unpredictable and the life of a fighter pilot very dangerous. The 2006 movie is based on the true story of the men of the Lafayette Escadrille.
It is a very diverse group of men, making up the Lafayette Escadrille. Blaine Rawlings (James Franco), faced the foreclosure of his family's ranch, rich and spoiled Briggs Lowry, wants to get away from the expectations of his overbearing family and African-American boxer Eugene Skinner joins because he was accepted as an athlete in France and wants to give back to his adopted country. The men are trained by the French Captain Georges Thenault (Jean Reno) and mentored by the surly veteran pilot Reed Cassidy (Martin Henderson). In a few short weeks, they have to learn how to fly and fight in the air and then it is into the war, where the average life expectancy of a pilot is 6 weeks....
I bought this movie once in a 3-for-5 movie sale, but had it lying around for a year or so before I finally watched it. I don't know why I waited so long, because this is a wonderful movie, a touching story about bravery and friendship.
Many stories are told in books and movies about fighter pilots in WWII, while most movies and books taking place during WWI detail life in the trenches.
Flyboys
therefore tells a unique and relatively unknown story of the small group of men who were fighter pilots during WWI. Many different subjects are touched upon in this movie; the immense stresses placed on the fighter pilots, living side by side with people from such different backgrounds, making friends with people who run the risk of dying every day. There is a small but interesting subplot detailing the relationship between Blaine Rawlings and a local French woman, which also shows the shocking conditions the French people had to live through during WWI. This romance does not take center stage in this movie though, but this was not something I missed at all.
The acting is very good in general. I'm normally not a fan of James Franco, for some reason his face and voice annoy me. But in this early role, before his big breakthrough, I thought he played Blaine Rawlings very convincingly. Other performances of note were Martin Henderson (Darcy in
Bride and Prejudice
!) as the war-hardened and very brave Reed Cassidy and the relatively unknown Philip Winchester, who gave a strong performance as a pilot with shell-shock.
The air-fights were beautifully filmed and thrilling to see. I read on Wikipedia some historical errors were made with regard to the types of planes used etc, but for the casual (aka 'plane-ignorant') viewer, this definitely does not arrest attention. As
Flyboys
details the lives of young men going into extremely dangerous circumstances, I must warn you there are some very sad parts in this movie, but it is something you can expect of a movie taking place in wartime. The movie is not sad overall though, but poigant with an overarching hopeful theme of bravery and friendship. The movie ends with a set of pictures of the real-life Lafayette pilots who inspired this movie and what happened to them after the war. I absolutely love it when a movie does that, it reinforces the message of the movie when you become aware that you've been watching a story which truly happened.
All in all, definitely a movie I can recommend to those of you who love little told historical stories and tales of bravery.
What to know: One scene takes place in a brothel, but there is no nudity. There is wartime violence, including innocent men being shot, blood spatters in aerial fight scenes. A man has his hand removed by a shovel, but this happens off-screen. Pilots are seen drinking in a bar multiple times. Multiple instances of the word d*mn. The movie is rated PG-13